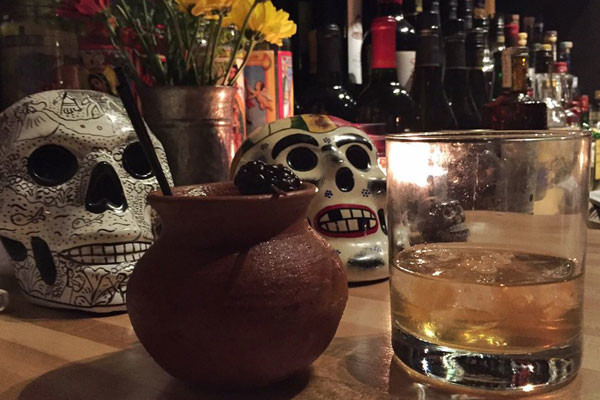 Spirits
Mezcal Revolution: 5 Top Spots to Enjoy the Spirit's Renaissance
By
|
It wasn't long ago, in fact in the last couple of years, that Mezcal started making waves in and around Austin as Tequila's wiser older brother; it was masculine, it was delicious, and it was hard to find. There was a secrecy about where to seek it out, and once you found it there was a Prohibition-like feel in the tiny establishments where the bar tender's only job was to wax about the agave spirit's many virtues — or vices. Bar Ilegal, since closed, was one such space.
In an old stone building on Rainy St. in Austin, it contained statues of St. Maximón — a mythical Mayan figure who demands offerings of money, spirits and cigars or cigarettes as to gain his favor in exchange for good fortune.
But now the popular spirit is easier to find. It's flourishing in a renaissance that's almost unmatched within the world of mixology, and for those so inclined to imbibe, we've gone ahead and found several unique spots in the Texas Hill Country where you can see what all the fuss is about.
1. Mezclaría Mixtli, San Antonio
First created by by Diego Galicia and Rico Torres of nearby Mixtili, the men behind Mezcalaria Mixtili are truly dedicated to offering cuisine specific to regional Mexico. Located in Olmos Park on McCullough Avenue, this bar is sure to wet your whistle with a Mescal concoction that is out of this world. The sheer number of offerings of this high-quality spirit the bar keeps in stock is one thing, but their unpretentious willingness to mix you a contemporary cocktail out of the special spirit is what really makes this this spot a must-visit.
2. Techo Mezcaleria & Agave Bar, Austin
If you weren't looking, you might miss this little rooftop bar on East Austin's Manor Rd. Tucked away above Tex-Mex favorite Mi Madre's, it opened without much fanfare back in November, but word is quickly getting out. Techo offers the agave spirits with a curiously creative twist, marking their menu with concoctions such as the "Hierba" (mezcal and bourbon with lime and pickled grape) and "Verdito" (mescal, absinthe, basil-serrano, and lime juice with agave ). Check it out if you haven't already.
3. Whisler's, Austin