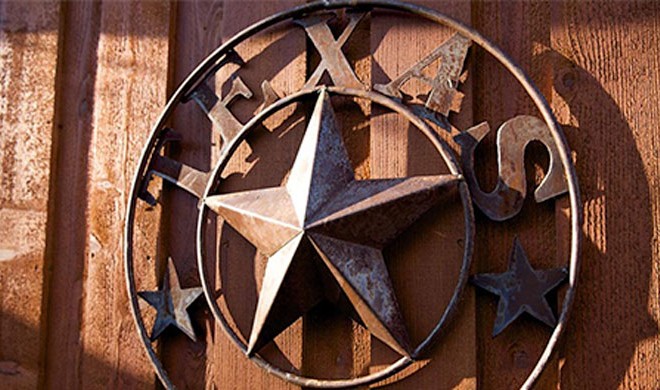 Lifestyle
10 Thoughtful Ways to Showcase the Texas Star in Your Home
We hate spam too, we'll never share your email address
Stitch a star
This homemade touch doesn't take an expert seamstress to construct. The quirkier, the cuter and it adds a pop of color to any neutral backdrop.
Junk to gems
"Whatever's good for your soul, do that!" said the creator of this outdoor art. Use what you have, or find, and get creative.
Welcome the neighbors
This Texas transplant to a more Westernly state brought along her star (and her Texas pride). It's a friendly reminder that there's a friendly family living inside.
Grab a seat
What better way to enjoy a Texas brew than sitting atop this bar stool? A Shiner is always welcome to the table.
Mirror, mirror
Rustic, yet polished: This carved-in beauty of a vanity is beautiful. If you have the pocketbook to handle this:, it's a sure-fire way to always show off the star.
Mantel Masterpiece
The monotone theme for this design is simply lovely. The wooden star looks darling among silver accessories and gives a more demure look to the usually big and bold choices.
Door candy
Red, white and blue works year-round and don't preach to a Texan otherwise. Since it's nearly autumn, you can add some fall touches of golden leaves or pops of pumpkin orange to the wreath to keep it in theme.
[jwplayer player="1″ image="http://www.wideopencountry.com/wp-content/uploads/2015/07/20-things-all-texans.png" sources="{ file:'rtmp://s1ssvh3c35a622.cloudfront.net/cfx/st/20-things-all-texans-have-done-at-least-once-full.mp4′ },{ file:'https://s3.amazonaws.com/video.wideopenspaces.com/20-things-all-texans-have-done-at-least-once-full.mp4′}"]