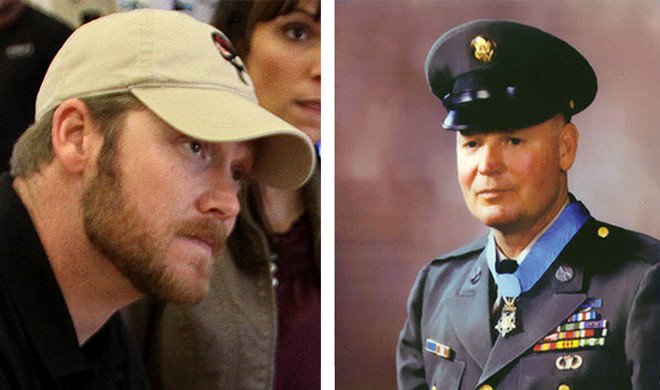 Wikimedia Commons Public Domain
Lifestyle
5 Legendary Texas Veterans You Should Know
By
|
We hate spam too, we'll never share your email address
As Americans and as Texans, our freedom was earned and not granted easily. The men and women willing to lace up their boots and charge into the unknown are the reasons why we're all able to enjoy our quiet lives each and every day.
So we've compiled the five most legendary Texas veterans in no particular order. Editor's note: these individuals were born in Texas, making them Texas veterans.
5. Robert G. Cole, LtCol. US Army, World War II
Born in Fort Sam Houston, Texas, LTC Cole was posthumously the highest commendation, the Medal of Honor, from his actions, known as Cole's Charge, during the D-Day invasion of Normandy. His citation states that he "observed this almost hopeless situation, courageously issued orders to assault the enemy positions…With utter disregard for his own safety and completely ignoring the enemy fire, he rose to his feet in front of his battalion and with drawn pistol shouted to his men to follow him in the assault." He was later killed by a German sniper in the Netherland, having survived Normandy.
4. Benito Martinez, Corporal US Army, Korean War
Benito Martinez, born in Fort Hancock, Texas, died in action during the Korean War in a stand that later posthumously earned him the Medal of Honor. Cpl. Martinez's citation for the MOH details how he "elected to remain at his post in an attempt to stem the onslaught. In a daring defense, he raked the attacking troops with crippling fire…he insisted that no attempt be made to rescue him because of the danger involved…after a courageous 6-hour stand, he called in for the last time."
3. Finnis D. McCleery, P/Sgt. US Army, Vietnam
Born in Stephenville, Texas, Finnis D. McCleery, shown in the above photo with his Medal of Honor, was awarded it based on an action in Vietnam that his citation states: "He is personally credited with eliminating several key enemy positions and inspiring the assault that resulted in gaining control of Hill 352 [though he was painfully wounded twice during his charge]." McCleery lived until the age of 74.
2. Robert D. Law, Sp4 US Army, Vietnam
Law was born in Fort Worth, Texas, and was posthumously awarded the Medal of Honor for his fateful actions in the Vietnam conflict in which he "instead of diving into the safety of the stream behind him, threw himself on [a] grenade to save the lives of his comrades."
1. Chris Kyle
Known colloquially as the American sniper, Kyle was born in Odessa, Texas. He was the most lethal sniper in U.S. military history and held over 160 confirmed kills during his four tours in the Iraq War. He received two Silver Star Medals, five Bronze Star Medals, and other numerous awards. He remained a prolific figure in Texas and the United States until he was tragically killed in Texas. His heroism and service continually reverberates across the United States.