labarbecue.com
Things to Do
7 Great BBQ Joints in the Hill Country
By
|
We hate spam too, we'll never share your email address
He reemerged (again) in 2013 with John Mueller Meat Co. in east Austin. He delivers his consistent brand of delicious smoked meats, which include sausage, turkey and the outstanding beef ribs. Unlike other sauces, Mueller's is a must have. It's thin, with hints of tomato, plenty of pepper and loads of sweet onion. Mueller might have gained a surly reputation, but he has been known to give free beers to customers waiting in line.
5. Opie's Barbecue – Spicewood
Photo: amazingribs.com
Opie's opened in 1999 and is known for its bountiful array of meat and huge dessert portions. When you walk in, you'll see a huge black metal box. The lid opens to an amazing display of smoked meats, including brisket, regular and jalapeño sausage, sweet-and-spicy baby back ribs, enormous pork chops, pork spareribs, pork loin, pulled pork, beef ribs and chicken.
Once you make your choice, proceed down the line for slicing and weighing, and to pick a few sides. You should definitely try the spicy corn and cheesy tater tot casserole. Beans, bread, and other accoutrements are free. If you still have any room left, go back for a peach cobbler or Coca-Cola cake.
6. Buzzie's Bar-B-Q – Kerrville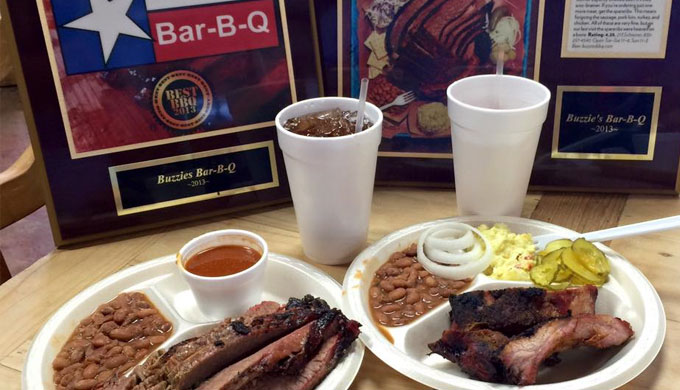 Photo: Buzzie's Bar-B-Q's Facebook
Buzzie's is another Hill Country standby. Opened in 1997, this BBQ joint uses live oak to fuel its indirect heat pit. Because it's Texas, you have to order the brisket. You won't be disappointed with its tenderness, smoky oak flavor and marbled edges. They also offer sausage, pork loin, turkey and chicken on the menu.
The sides are standard BBQ fare and include potato salad, coleslaw and a choice of peach, blackberry, or cherry cobbler and pecan pie..
Photo:
labarbecue.com