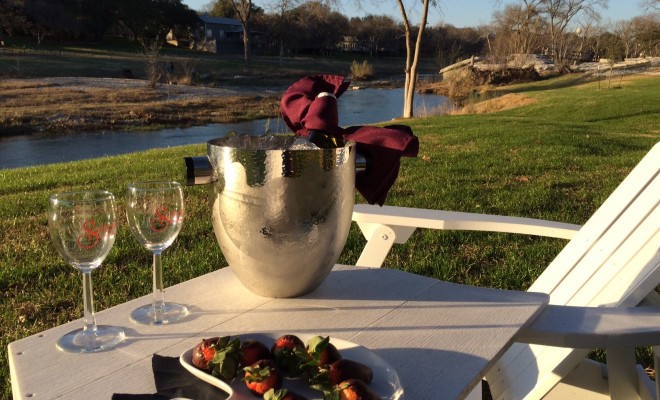 Austin.com
Places to Stay
7 of the Most Romantic Bed and Breakfasts in the Hill Country
By
|
We hate spam too, we'll never share your email address
4. Inn on the Creek – Salado
Photo: BruceMalone.com
It's difficult to say if the pristine scenery or the gourmet food is more enticing than the other at the Inn on the Creek in Salado. Bring your loved one up for a romantic picnic next to the river, or relax on a swinging hammock. The super-attentive staff are available to make sure your every need is met, and the on-site restaurant is a great option for a romantic dinner.
5. Rose Hill Manor – Stonewall
Photo: BedandBreakfast.com
Right down the street from 16 wineries and a short drive to Wildseed Farms or Fredericksburg, Rose Hill Manor is a perfect getaway for wine lovers. The amenities in each room are high end luxury linens and bath products, and the on-site restaurant is perfect for keeping your stay as relaxing and romantic as possible.
6. Blair House Inn – Wimberley
Photo: TripAdvisor.com
The signature feature at the Blair House in Wimberley is the 45-foot outdoor pool, but the mesmerizing scenery, gourmet breakfasts, and elegant rooms won't easily be forgotten. Cozy up to a warm fireplace with a glass of wine or sit out on your patio and enjoy the country air. Blair House is a perfect place for a romantic getaway.
7. The Olivia Mansion – Seguin
Photo: OliviaMansion.com
If you're looking for Victorian charm and old-world history, this is the bed and breakfast for you.  In keeping with the history of the venue, the rooms are sparsely decorated, but full of appeal.  With many of the original features in the house, and gourmet food reminiscent of the French countryside, the Olivia Mansion offers a tranquil retreat for a weekend getaway.