Facebook/Buffalo Soldiers 9th & 10th Calvary Association of Greater Houston
Lifestyle
3 African Americans Who Have Left a Lasting Legacy in Texas
By
|
We hate spam too, we'll never share your email address
Born to an African Methodist Episcopal ministerial family in Weimar, Texas, Barnett would eventually find herself a fixture on Broadway and would pioneer the way for African American entertainers in the years to come. Her first onscreen appearance in the film "Gold Diggers of 1933" showed the world that women of color could fill roles other than those of housekeepers and nannies. (Barnett played a homemaker whose husband had passed away.) That same year, Barnett took on the role of a Brazilian singer for "Flying Down to Rio." According to the Texas State Historical Association, the film would become her most well-known venture, as she acted alongside movie stars Fred Astaire and Ginger Rogers.
In what was perhaps one of the highlights of her life, Barnett was invited to the White House in 1934. She was the first African American woman to ever perform at the President's home. She was inducted into the Black Filmmakers Hall of Fame in 1979.
Throughout her lifetime, Barnett was heavily involved in several philanthropic agencies and was considered one of the Top 100 Most Influential Women of the 20th Century by the Texas Women's Chamber of Commerce. A mere 102 years after her humble beginnings, the ground breaking singer and actress passed away due to pancreatic cancer.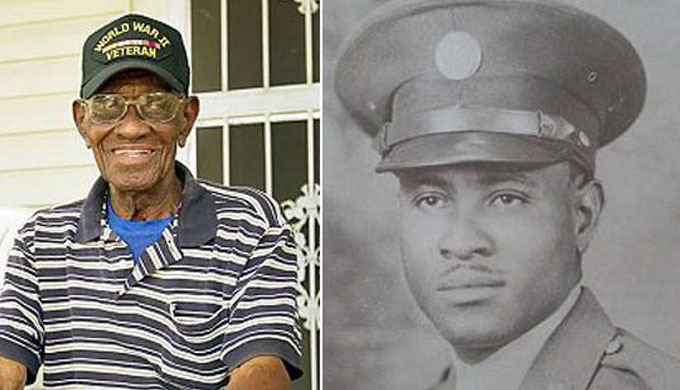 Photo: 
Facebook/Black Americans
Born in 1906 in Bastrop Country, Overton is the oldest living American veteran at a spry 111 years old. He served in the military from 1941 to 1945, and according to a recently published interview with the Dallas Morning News, his unit—made up of African American soldiers—was one of the first to arrive at Pearl Harbor after the Japanese attack.
In 2013, Overton made an appearance at the White House and at the Veteran's Day Ceremony held at Arlington National Cemetery. During his visit, he met President Obama, who showered him with praise during the ceremony. He celebrated his birthday on May 11 of this year. As a gift, the city of Austin renamed the street where he lives, Richard Overton Avenue.