Robert C Deming
Lifestyle
The Complete Idiot's Guide to Texas Wine Road 290
By
|
This couple, Lanie and Doug, have been tasting wine for several years and they have seen Wine Road 290 evolve from a handful of wineries to 43 today. Lanie noticed that after she had children her tastes changed from red to white. Their server in the small Lewis Wines is Doug, co-owner, and winemaker, and he is telling them about one of the vineyards they own. They love the ambiance of these places, where only $15 per person gets you a taste of a half a dozen beautiful wines and an education from a winemaker.
Photo: Robert C Deming
Wine and food are generally served together. Here, Lanie and Doug are getting some advice on food which pairs beautifully with certain of the wines at Lewis. Doug (the winemaker) is excited about pairing their Parr Mouvedre with boiled shrimp and raw oysters. If this discussion makes your mouth water, before you leave, buy two bottles of this wine when you check out, and one of the $15 tastings is free. The next time you invite friends to your house, you can serve this up and tell this story like a pro. Along the way, you will find other food pairing suggestions; take notes, and amaze your friends.
Rule #5: There is Nothing Pretentious About Texas Wine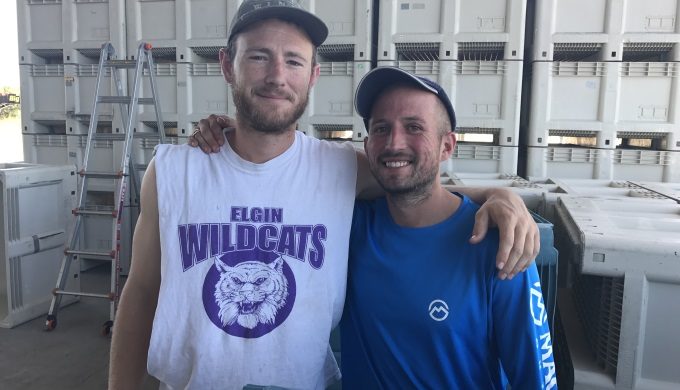 Photo:
Robert C Deming
These regular-looking guys are Doug and Duncan, winemakers and owners of Lewis Wines. Do they look like wine snobs? Here they are pictured during crush in July, after a night of picking grapes and getting them set up to ferment. They are eager to share their wine and knowledge with you.  Know before you go: keep reading.
First, if you are visiting for a weekend or holiday, call ahead for reservations.  Wineries get huge crowds and planning ahead will make your visit more enjoyable. Janet says that there is a good chance you are going to spill some wine on your shirt, so wear a shirt which won't make that obvious. As you are more than likely out with a significant other, dress to impress that person; she recommends smart-casual. If you want to take a wine tour bus on a weekend, call well in advance for reservations.  There is a shuttle which will drop you off and pick you up for a reasonable fee, but don't put yourself in jeopardy of an accident or a DWI anywhere. The speed limit has been lowered to 60 MPH between Fredericksburg and Stonewall because of some fatal accidents; take your time drinking, with wine-tasting, the goal is not to get a buzz. If you plan to drink that much, have a designated driver.  Really. A good plan is to start at 11:00 a.m., take a break for lunch at the Hye Market, then visit your second winery.  After that, go back to your B&B or hotel and take a nap! And have a great time in your new pursuit!