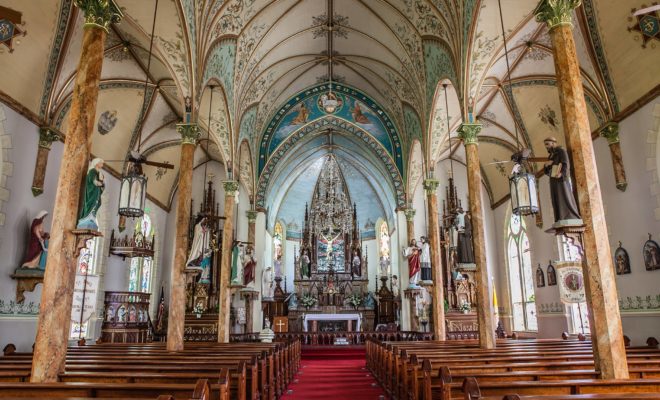 Schulenburg Painted Churches
Things to Do
Historic Painted Churches of the Texas Hill Country
By
|
We hate spam too, we'll never share your email address
Billed as the "Queen of the Painted Churches," St. Mary's Catholic Church could be considered the crown jewel of Texas' painted churches. The red-brick Gothic Revival church is packed to the gills with statues of saints. It also has an elaborate altar, a chandelier, a pipe organ, Stations of the Cross imported from Italy and a painted reproduction of Michaelangelo's "Pieta." The apse dome is awash in a subtle periwinkle blue, accented in gold leaf. Tromp l'oeil abounds; the faux marble was painted with turkey feathers. Intricately detailed stained-glass windows glow in the afternoon sun.
St. Mary's Catholic Church is located at 2833 FM 2672 in Schulenburg, Texas.
St. Mary's Church of the Assumption
Photo: 
stmaryspraha.org
"Maticka Praha" – Praha – the name spoken by many Czech lips with resounding pride in Fayette County, throughout the mighty state of Texas, even to the far reaches of the United States and across the seas to Czechoslovakia. Praha – the promise of the New World was to be realized here.
In 1865, the settlers, though having little or no money and barely enough food for their own survival, did build a small chapel. This chapel, measuring 17-feet by 15-feet, was made of stones. The walls were 18 inches thick. Considering the thickness of the walls, the chapel inside measured only 15 1/2 feet by 13 1/2 feet – not much larger than many a room in a modern home. The stones used in the chapel are much smaller than the ones used to build the present church, and appear to be slabs of stone ranging from one to five inches in thickness.
The first Mass was offered in the chapel at midnight on Christmas Eve in 1865. The celebrant was Father Joseph Bittkowski, a Benedictine missionary priest who was serving in this area of Texas under the jurisdiction of the Resurrectionist Missionaries. These missionaries had come to Texas to minister to the Polish People.