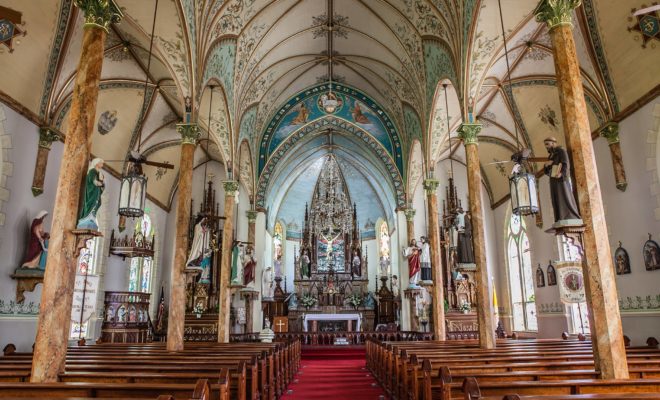 Schulenburg Painted Churches
Things to Do
Historic Painted Churches of the Texas Hill Country
By
|
We hate spam too, we'll never share your email address
A little imagination can add an altar brimming with beautiful native Christmas flowers and flowers from seeds and bulbs which they brought from their homelands, a crucifix, soft light from the candles that burn at all Masses, Christmas hymns sung in the Czech language, and a warmth spreading from those present at the Mass, to provide an all-pervading sense of peace, love and good will toward their neighbors which was surely felt by those participating.
St. Mary's Church of the Assumption is located at 821 FM 1295 in Flatonia, Texas.
Maps and Directions:
Spring is the best time to visit as the wildflowers are in bloom. This tour can be completed in one day. For more information, please visit the Schulenberg Chamber of Commerce located on 618 N. Main Street, Schulenberg, TX. Brochures are available outside for weekend visitors.
The Painted Churches have no official website. Twelve are a short drive from the small town of Schulenburg, (on I-10 between Houston and San Antonio) and the Chamber of Commerce there offers popular tours.
Many of the Painted Churches are open daily, but guided tours offer a wealth of background information that brings to life each church's special features. To request a guide, please call (866) 504-5294.
References:
St. Joseph Catholic Church in Richardson, TX