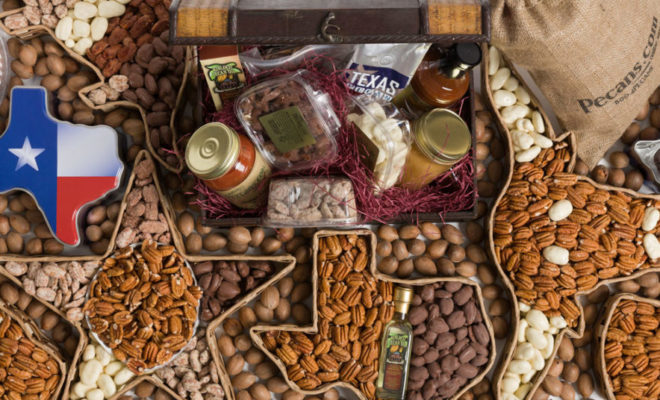 Pecans.com
Lifestyle
Taste These Delicious Texas Pecans in Goldthwaite
By
|
We hate spam too, we'll never share your email address
Few can resist the inviting crunch of a fresh pecan. Even better when grown and produced right here in the Texas Hill Country. Slightly sweet and earthy, pecans are a perfect pairing on a cheese and fruit plate or with wine, and are irresistible with chocolate, or in a pie. For many, pecans bring back childhood memories of cracking and eating these native nuts with friends and family in the summers and at holidays. Pecans for many are a long-held tradition and represent family and celebrations.
Photo: Pecans.com
Pecans.com has been rooted right here in Texas since the '70s and continues to thrive right here in the good state. They have one of the few organic shelling facilities around making this company a step above the rest.
Pecans.com offers both an online store as well as a brick and mortar store located one block north of the Courthouse Square off Loop 15 in Goldthwaite, Texas. Look for their electronic billboard! You won't want to miss them as you plan your trip through the bluebonnets that line the state. This is a Texas Hill Country road trip-worthy stop.
Photo: Pecans.com
From their store and online page, you can order a number of treats. They have a large gift section that offers candies, pies, and assorted combinations for any recipient. But chocolates, candies, and pies are only the beginning. You can also find pecan meal and pecan oil, a heart-healthy alternative to other cooking oils and even butter. You can also explore their spreads and syrups section where you will find their coveted honey butters and pecan spreads. Toffee pecan honey butter, anyone?
Photo: Pecans.com
If that weren't enough, you might also enjoy perusing their gift shop for unique Texas themed souvenirs and gifts like hummingbird feeders, goat milk lotion, cookbooks, coffees and teas, among other finds.
Photo: Pecans.com
You can find Pecans.com online at www.pecans.com.
You can find their retail store at:
1020 W Front Street
Goldthwaite, TX, 76844
They are open Monday – Friday 8 a.m. – 5 p.m., Saturday 9 a.m. – 4 p.m., and Sunday 12 p.m. – 5 p.m.