Photo courtesy of Mo-Ranch, Hunt, TX
Places to Stay
Spend Spring Break at Mo-Ranch & Create Memories to Last a Lifetime
By
|
We hate spam too, we'll never share your email address
Looking for adventure? Try rappelling, zip lining, or a ropes course. Bond with your family over the Great Escape challenge in which you have 60 minutes to put your heads together and find a way out of a locked room.
Participate in a living art project creating art with the help of Mother Nature (and the Mo-Ranch art staff), explore the ranch by mountain bike, shoot some hoops, or play a game of volleyball. Relax with an outdoor yoga class or long, meandering hike. Take a moment to worship God in the midst of some of His beautiful creation.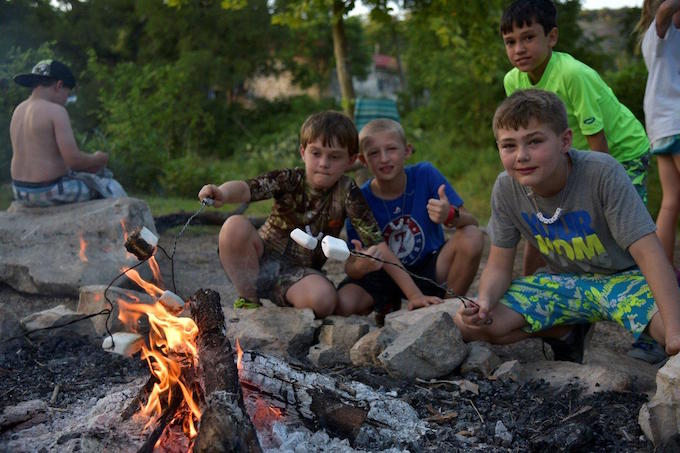 Still not tired? Grab your partner and do-si-do the night away at the square dance and hoedown. Sing your heart out at karaoke or gather 'round a campfire and toast marshmallows. And finally, when you are sufficiently tuckered out, your eyelids heavy with want for sleep, head back to your comfortable hotel for a night of rejuvenating rest. After all, more adventure awaits you in the morning.
Mo-Ranch has created the perfect spring break getaway package which runs from March 5 to March 19. Pricing is all inclusive ($119 per night for adults, $69 a night for kids 5-17 with children 4 and under free) — hotel (check out the awesome rooms at Pheasant Run and Wynne/Flato), food, and activities are all included. Don't want to stay overnight? No problem, the ranch provides commuter rates, too. Check out the schedule of events here or create a personal experience and explore the ranch on your own. Simply register here and put your mind at ease. Dream big, pack your gear, and get ready for an unforgettable Texas Hill Country spring break experience. Don't wait, sign up today.