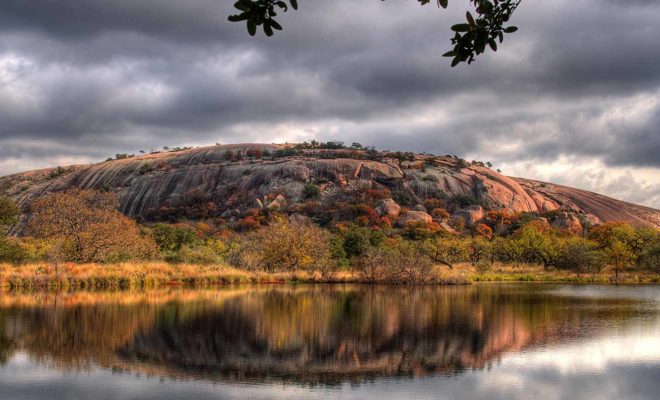 Texas Parks & Wildlife Division
Things to Do
The Best 5 Hill Country Camping Spots This Fall
By
|
We hate spam too, we'll never share your email address
As the weather begins to hint at the possibility of fall, if slightly, Texans begin to consider more outdoor activities, no longer convinced that a fully blasting a/c unit is a necessary prerequisite for agreeing to an activity. Fall in the Hill Country is the perfect mix of slightly cooler temperatures but is still often warm enough for t-shirts and light jackets. As the air begins to cool and the leaves begin to change, outdoor camping and hiking often moves to the top of many people's list of things-to-do. Here we have compiled a list of a few spots in the state you might want to check out for camping this year. Some are more popular than others so plan ahead and book your dates as soon as you can!

Photo: tpwd.texas.gov
When thinking of Texas, and particularly West Texas, many don't consider mountains as part of the landscape. In many parts of West Texas, this is valid, but Davis Mountains State Park is a welcome exception to the rule. With miles of trails and open sky, this is the perfect place for stargazing by night and bird-watching by day. In fact, they have the "best little bird blind in Texas" for bird enthusiasts to enjoy. In addition to camping, the park is also home to a historic motel, Indian Lodge for those more interesting in glamping than camping.

Phot0: tpwd.texas.gov
Enchanted Rock sits in the Hill Country and is just 18 miles north of Fredericksburg.  This area has been sacred ground to many for centuries. In fact, there are multiple state archeological landmarks to be discovered along the trails. The pink granite rock looms over the area and draws both novice campers and professional rock-climbers alike. Some stop to camp while touring other local attractions, while others come from all over just to visit the park. Plan ahead as reservations fill up quickly for Enchanted Rock!

Photo: tpwd.texas.gov
Anyone that loves going back in time or investigating the archeological remains of dinosaurs will appreciate camping in Dinosaur Valley State Park. A short drive from Fort Worth, children and adults can walk where the dinosaurs walked. While strolling along these stunning trails, check out dinosaur footprints left long ago in the muddy banks of the Paluxy River! Swimming and fishing in the river are also popular activities so bring your swimming and fishing gear!

Photo: tpwd.texas.gov
Colorado Bend State Park is just two hours northwest of Austin. Touting their vast unspoiled wilderness, the landscape and rolling hills are accompanied by Gorman Falls and Spicewood Springs. In addition to beautiful water, visitors can enjoy navigating their way through caves! Check availability for drive-up, tent, and primitive camping sites as well as larger group campsites.

Photo: tpwd.texas.gov
McKinney Falls State Park lies within Austin's city limits, making it a highly sought after park for many Austinites, but also people all over the state. Interacting directly with the swimming holes and waterfall is a favorite of many visitors. Visitors can also fish in Onion Creek, check out an early American homestead, and a primitive rock shelter while in the park. Camp sites tuck into the trees making this a quaint site for overnight camping and enjoying nature as the leaves change colors.
While the camping spots that made our list are sure to please, you can check out other sites all across the state by visiting tpwd.texas.gov. Here you can also check for availability and make reservations for your fall camping trip as well as get daily updates on camping and weather conditions which is helpful when planning and preparing for your trip.
As you plan, consider the conditions and what makes the most sense for the people in your group. If children are involved do some research ahead of time for foot-friendly trails. Others might prefer a higher octane experience and will be interesting in looking for more demanding trails and climbing options. When deciding on a specific camping site consider the distance the site is from a toilet and shower if that it important, as well as the proximity to other campers if quiet and privacy are important to you. If traveling with pets be aware of rules regarding pets and leash laws. Always be prepared with drinkable water as some places will not have potable water accessible at all times. Many like to plan ahead for food and snacks as well. While planning, consider if you want a rustic adventure far from restaurants and cities, or the ease of driving down the road for dinner after a day of fun on the trails.
As fall approaches step out and enjoy all that the beautiful Texas landscape has to offer, and pack a tent!
Originally published in Heart of Texas Magazine, Fall 2018.