Ann Aline Krauskopf
Things to Do
10 Reasons Hill Country Camping is the Best
By 
 | 
We hate spam too, we'll never share your email address
Photo: Balcones Refuge
Camping provides a wonderful opportunity to get in touch with nature. The Texas Hill Country boasts many interesting animals and creatures from the elusive bobcat, bald eagles, armadillos, and buffalo. Nature enthusiasts can also enjoy the rare treat of seeing a handful of endangered species like the Golden-Cheeked Warbler and the Black-capped Vireo. Needless to say the abundance of deer, songbirds, and natural wildlife make the Texas Hill Country an incredible place to camp.
5. You Don't Have to Be an Expert!
Photo: Yes, that's a tent at Sinya on Lone Man Creek.
Not everyone is cut out for tents, backpacks and open trails; in the Texas Hill Country you don't have to be. Camping takes on many different forms, in the Hill Country, which appeals to even the most tent-phobic individuals. Deluxe "glamping" tent get-a-ways, luxury tee-pees, tree houses and glamour RV's are all options for those who choose not to "rough-it" in the wild.
6. The Weather is Pretty Good (most of the time)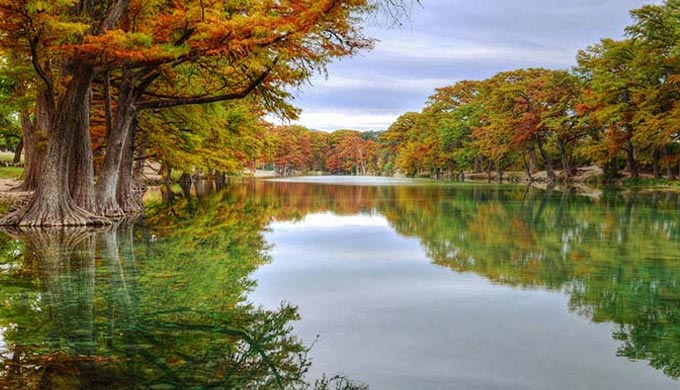 Photo: The Frio River at Garner State Park
There's an old saying in Texas, "If you don't like the weather in Texas, just wait 10 minutes." While north Texas and beyond often struggle with wet, cold and icy weather during the fall and winter months, Hill Country campers enjoy beautiful weather all year round. While the occasional cold spell and ice, may deter even the most avid outdoorsman, you can rest assured the Hill Country grants plenty of beautiful days to make your camping expedition a great experience. The heat of summer should not discourage campers either, with countless breezy hilltops and pristine swimming holes, campers in need of a cool spell can find relief on even the hottest summer afternoons.
Photo:
rentridereturn.com
The cost of a vacation continues to rise making it difficult to find a great get-a-way at a reasonable cost. Camping in the Hill Country is extremely affordable, especially when taking advantage of our beautiful State Parks. The average cost when camping in the Hill Country can vary depending on the distance traveled, but you can budget anywhere between $11-$25 per day per person, putting a quick weekend get-a-way within reach.