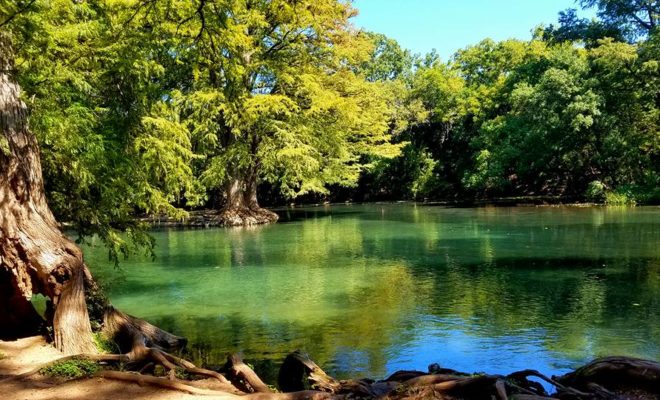 Brandee' Brantly
Things to Do
10 Things You Must Do This Summer in the Texas Hill Country
By
|

With summer just around the corner, there are plenty of perfect ways to beat the heat in the beautiful Texas Hill Country! Here are Texas Hill Country's top 10 things you must do this summer beginning with the most iconic way to relax and chill out.
1. Tubing
Photo: Facebook/Concan Texas
Grab a beer, crank up some Robert Earl Keen, and make a splash in the crystal clear, beautiful spring fed rivers of the Texas Hill Country. The Frio River is arguably the most stunning and most popular tubing hotspot. Other beautiful Texas Hill Country rivers include the San Marcos, Comal, Blanco, and the Guadalupe Rivers.
2. Swimming Holes
Photo: Facebook/The Austinot
Austin and the surrounding areas are known for swimming holes to make a splash and keep cool. Local favorites are Deep Eddy, Barton Springs, Hamilton Pool, The Blue Hole, and Jacobs Well. Check the websites as reservations may be required in some instances. Check here for more information.
3. BBQ
Photo: Brandee' Brantly
With all of the adventures to offer in the Texas Hill Country, one can work up a serious Texas-sized appetite. Here are some iconic Texas Hill Country BBQ good eats for your inner foodie: La Barbeque, Louie Mueller, The Salt Lick, and Black's to name a few. Barbecue in Texas – the options are infinite.
4. Hiking
Photo: Brandee' Brantly
In summer, hiking is best done in the early morning hours in the expansive Texas Hill Country. The best aspect of hiking in the Texas Hill Country, typically, there is a river or swimming hole nearby to cool off in after a challenging hike. Be sure and keep hydrated during the hot summer months. Local favorite hill country hiking locations: Purgatory Creek, Cypress Falls, and Barton Creek Greenbelt to name a few! See here for more information.
5. Schlitterbahn
Photo: Facebook/Schlitterbaun
A perfect way to beat the heat and channel your inner kid is Schlitterbahn in New Braunfels. This german-themed waterpark is sure to please the entire family, no matter the age.
6. Kayaking
Photo Courtesy of Andy Heatwole
Austin is one of the most active cities for a reason! Austin and surrounding areas offer up countless places to kayak through the beautiful emerald green spring fed rivers and lakes located throughout the vast  Texas Hill Country. Lake Travis and the San Marcos River are some of the most popular places in the Texas Hill Country. Feeling extra adventurous? Kayak with the light of a full moon with REI on Spring Lake. For more information regarding night kayaking, visit the website here.
7. Wine Tours
Photo: Facebook/Driftwood Winery
Grab your girlfriends and go! Go on a romantic picnic paired with a delcious Texas Hill Coutntry wine to cleanse the pallete! Tour the countless wineries in the stunning Texas Hill Country Wine Trail. There are countless numbers of wineries in the beautiful rolling hill of the Texas Hill Country. More information can be found here.
8. Craft Brew Tours
Photo: Brandee' Brantly
The craft brew scene has exploded in the Texas Hill Country. Grab your best friends and hop to each brewery: Independence Brewing Company, 512 Brewery, Real Ale Brewing Company, and Shiner, to name a few.
9. Ziplines
Photo: Facebook/Wimberley Zipline
Looking for an adrenaline rush? Look no further than a zipline adventure above lakes, canyons, and bluffs throughout the stunning Texas Hill Country such as Wimberley Zipline Adventures and Lake Travis Zipline.
10. Historic Dance Halls
Photo: Facebook/ Gruene Hall
Austin is the music capital of Texas for a reason. Historic dance halls that have stood the test of time, bring the music to an eclectic and intimate atmosphere. Boot scoot your way to the historic dance halls throughout the Texas Hill Country. Gruene Hall and John T. Floore's are the most beloved dance halls. Good music and big names such as Loretta Lynn, LeAnn Rimes, Randy Rogers, and Robert Earl Keen still swing through and grace these dance hall stages.
This small list only scratches the surface of the endless possibilities to be experienced in the adventurous Texas Hill Country. For more incredible suggestions for Texas Hill Country enthusiasts, subscribe to the Texas Hill Country newsletter here to stay updated on the most current Hill Country Happenings.