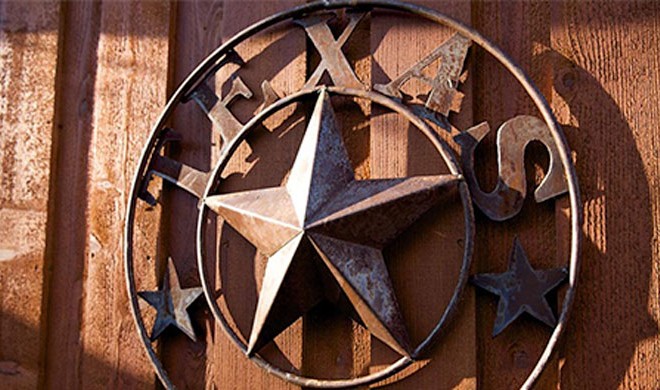 Lifestyle
10 Thoughtful Ways to Showcase the Texas Star in Your Home
We hate spam too, we'll never share your email address
In the sky, or on a small Texas town's city marker, or in the homes across the vast state you can always spot the able-bodied Texas Star.
The song "Deep in the Heart of Texas" (original by Bob Wills or this version of Sheldon singing on "Big Bang Theory," if you please) captured the sentiment of the Texas State of Mind: There's something big and bold about Texas.
But before I give you the inside scoop that will surely transform your space for an Instagram-worthy moment: A bit of history of the Lone Star Flag courtesy the Bullock Museum, a history museum at 1800 Congress Avenue, deep in the heart of Austin.
"The Lone Star Flag was originally designed by Texas Constitutional Convention delegate Dr. Charles Bellinger Stewart and was adopted by the Congress of the Republic of Texas in 1839. Austin artist Peter Krag was paid a fee of $10 (about $200 in current dollars) to make an architectural rendering of Stewart's original freehand flag design. Like the United States flag, the red, white, and blue colors in the Lone Star flag stand for courage (red), purity and liberty (white), and loyalty (blue)."
Learn from these Texans (whether born and bred, or just moved in, or living elsewhere) for some ways to showcase the Lone Star where you sleep.
Oldie but a goodie
If you can find a treasure like this old door knob, hold onto it and don't let go (unless you need to leave). When opportunity knocks: Answer!
Porch Livin'
It's almost a subliminal message, but how can you not love this patio furniture? It's the perfect place to relax on those weekend mornings or after work alongside the symbol.
Kitchen Cute
When you check the time, you'll always get a glimpse of your Texas pride too. Depending on the size of the star it can make a statement or remain low-key in the kitchen.
Stitch a star
This homemade touch doesn't take an expert seamstress to construct. The quirkier, the cuter and it adds a pop of color to any neutral backdrop.
Junk to gems
"Whatever's good for your soul, do that!" said the creator of this outdoor art. Use what you have, or find, and get creative.
Welcome the neighbors
This Texas transplant to a more Westernly state brought along her star (and her Texas pride). It's a friendly reminder that there's a friendly family living inside.
Grab a seat
What better way to enjoy a Texas brew than sitting atop this bar stool? A Shiner is always welcome to the table.
Mirror, mirror
Rustic, yet polished: This carved-in beauty of a vanity is beautiful. If you have the pocketbook to handle this:, it's a sure-fire way to always show off the star.
Mantel Masterpiece
The monotone theme for this design is simply lovely. The wooden star looks darling among silver accessories and gives a more demure look to the usually big and bold choices.
Door candy
Red, white and blue works year-round and don't preach to a Texan otherwise. Since it's nearly autumn, you can add some fall touches of golden leaves or pops of pumpkin orange to the wreath to keep it in theme.
[jwplayer player="1″ image="http://www.wideopencountry.com/wp-content/uploads/2015/07/20-things-all-texans.png" sources="{ file:'rtmp://s1ssvh3c35a622.cloudfront.net/cfx/st/20-things-all-texans-have-done-at-least-once-full.mp4′ },{ file:'https://s3.amazonaws.com/video.wideopenspaces.com/20-things-all-texans-have-done-at-least-once-full.mp4′}"]