Facebook/Fredericksburg Community Orchestra
Things to Do
Fredericksburg Community Orchestra Presents 'Bach at Luckenbach'
By
|
We hate spam too, we'll never share your email address
When people think of Luckenbach, they think of good country music, dancing, and, of course, Willie. However, this Thursday, June 16, 2016, the Fredericksburg Community Orchestra, arm-in-arm with the 4 Proches, will present its 5th Annual "Bach at Luckenbach, Texas" fundraiser. The event will dress things up a bit for Luckenbach to benefit the nonprofit orchestra, which promotes string education and performances in Fredericksburg and the surrounding community.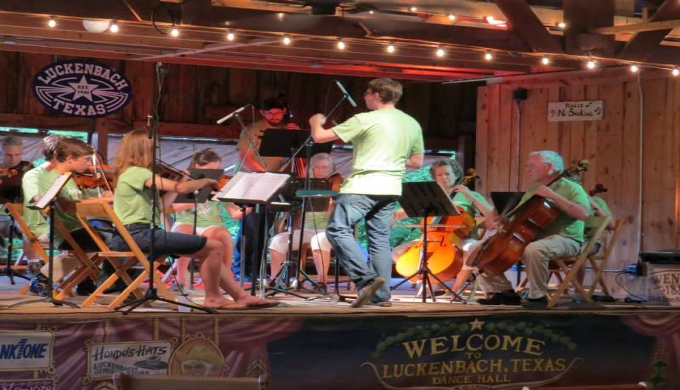 Photo: Phil Houseal via Texas Public Radio
Students in the Theresa Britt's Suzuki program will present a short program of individual pieces and ensembles prior to the Fredericksburg Community Orchestra's performance. Musicians who participate in the community orchestra come from all walks of life and range in age and performance levels. The Fredericksburg Community Orchestra and the Teresa Britt's Suzuki program offer a place for both aspiring and professional musicians to develop, grow, and perform. The orchestra performance will run from 5:30 – 8:30 p.m., and will be joined by an amazing local group at 7 p.m. who will finish off the set.
Photo: 4 Proches
Joining in and following the 20-piece community orchestra will be the 4 Proches, a Fredericksburg group of siblings who perform original folk, bluegrass, and Christian string band music. The group has coined themselves as "a vintage lifestyle band" and fill the room with some of the most beautiful, meaningful harmonies intertwined with boot-tapping fun. Equipped with a banjo, mandolin, a guitar, and a bass, the 4 Proches will present songs they write themselves that bring hope, inspire laughter, and bring the community together.
Photo: Facebook/Fredericksburg Community Orchestra
Tickets for Bach at Luckenbach and the meal are $25 and are available online at Eventbrite. The event includes a boxed dinner from My Own Chef with choice of four delectable entrees, which include vegetarian and gluten-free options. Specially designed T-shirts are being sold online and will also be available at the event. Reserve your tickets now and come on out to Luckenbach for some incredible music to help support the Fredericksburg Community Orchestra and its talented musicians.