Flickr/ Manuel Delgado Tenorio
Things to Do
Introduce Yourself to Hiking and Camping at Enchanted Rock
By 
 | 
For your first "rough'n it" camping and backpacking trip, Enchanted Rock State Natural Area is the perfect place to get some basic introductory experience. It will allow you to see if you would be interested going on a trip in the Rocky Mountains, Appalachia, Big Bend National Park, or any of the other wonderful trips a prospective backpacker would want to take. Enchanted Rock offers a variety of difficulty and trails that lead to stunning views all around the entire park, which makes Enchanted Rock a solid introduction to this outdoor activity.
Arrival
Photo: Facebook/ James Martin
On your arrival to Enchanted Rock, the scenery is overwhelming. The skies are clear perfect blue into the horizon, and on the ground, a sea of green trees as far as you can see, only broken by the pink granite dome of Enchanted Rock and its sister rock formations that rise out of the earth and ornately decorate the surrounding area as the crown jewels of the pristine natural landscape. Even if you don't get to camp, a daytrip would be more than worth it, just for the views alone.
Hiking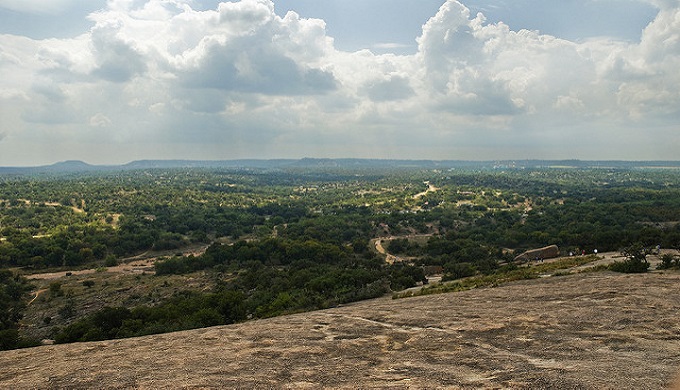 Photo: Flickr/ Randall Chancellor
Hiking at Enchanted Rock ranges from peaceful and smooth to challenging. The park has five major uplift formations: Little Rock, Enchanted Rock, Turkey Peak, Freshman Mountain, and the Buzzard's Roost. Around these formations are trails that are rugged and fun to explore. The top of Little Rock is strewn with massive mazes of boulders and groves of trees that you can get lost in for hours.
Photo: Flickr/ Roy Luck
Enchanted Rock is the highest point of the park and it has several approaches to the top that range from moderate to very challenging. Turkey Peak offers challenging hiking for those that are willing to try a third upward hike. The last two, Freshman Mountain and the Buzzards Roost are farther away from the central area of the park and take time and patience to get to. If you want to challenge yourself, try to hike all five uplifts.
Camping
Photo: Facebook/ James Martin
Camping at Enchanted Rock is an experience in itself. If you want something a little more convenient, the park offers walk-in and drive-up camping. But if you are looking to get away for a retreat into nature, the primitive camping is worth the effort and the hike away from other campsites. The park offers two primitive areas, Moss Lake, and Walnut Springs. Each offer a different flavor of primitive camping. You will be carrying your gear: tents, sleeping bags, water, and food into the sites with you. Make sure you bring a tarp to put under your tent. Remember whatever you pack in, you have to pack out. The park staff does not allow ground fires in primitive camping so a mobile cooking stove is necessary.
The Wonder
Photo: Facebook/ Geekier
Since, Enchanted Rock is an International Dark Sky Area, the stars at night are big and bright. Before sunset, bull frogs begin croaking at Moss Lake. Packs of coyotes howl when you camp in the distance from Walnut Springs. After sunset, Mother Nature begins her art exhibition. To accompany your stargazing, a symphony of nature like the chirping of crickets in the distance and the crackling hum of the cicadas in far off trees will begin right on cue, as if you were in an outdoor concert hall. Eventually, the purple band of the Milky Way Galaxy appears across the Texas sky. During summer, you can hear the cracking and grumbling of the granite rock shifting on the main dome. The mornings, greet you with the melodies of the mockingbirds singing and playing chase with each other.
Contact Information
If you are excited and interested in making your trip to Enchanted Rock a reality, please contact Texas Parks and Wildlife for reservations, availability, and pricing at tpwd.texas.gov. The park does fill up on the weekends so keep that in mind.