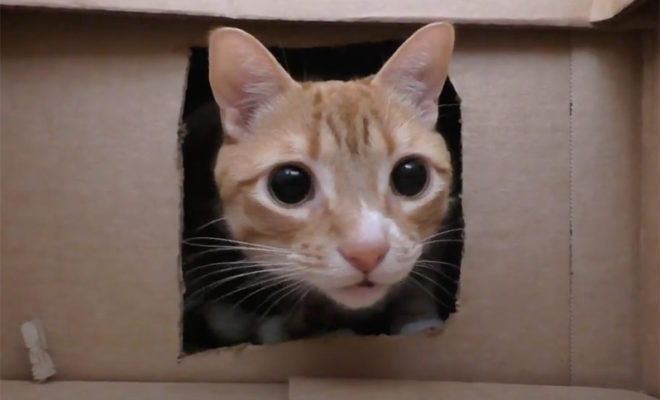 YouTube/Cole and Marmalade
Lifestyle
Man Constructs a Cat Paradise Out of 50 Empty Boxes in His Living Room
By
|
If you haven't noticed, cats love boxes. There are tons of videos and photos online of people's cats sleeping and leaping in and out of cubes of cardboard. Maru the famous YouTube cat has gained notoriety for his aspiration to fit inside any and every box and Big Cat Rescue showed the world that even wild cats have proven to be interested in boxes. Now, two more internet-famous kitty cats are joining in on the funny "cat in boxes" video trend.
Cat enthusiast and YouTuber Chris Poole runs the account "Cole and Marmalade" dedicated to his two cute kitties. In his newest video, he decided to give his furry friends a gift for International Cat Day (which was August 8th, apologize now to your cat in case you missed it). He set up 50 boxes complete with kitty-sized cut outs side by side in his living room. When he was finished with the labor-intensive project, he released his black and orange tabby cats into the room so they could go wild with wonderment. Watch below to see their reactions.
If you're intrigued by Cole and Marmalade's pampered lives, watch on to see Poole bake them "birthday cakes," and allow his kitties to paint!