Texas Parks and Wildlife Foundation
Nature
Devils River Tempts Paddlers With New Paddle-In Campsites
By
|
We hate spam too, we'll never share your email address
By Karen Blizzard
All photos courtesy of Texas Parks and Wildlife Foundation. Photographer: Jonathan Vail
Southwest Texas' legendary spring-fed river tumbles through remote wilderness areas where sycamore, oak, and pecan trees mingle with grasses and cacti in a harmonious convergence of three ecological regions. Here, gazing into clear, blue-green pools of precious water that myriad species of fish call home, you can escape from reality and rediscover the silence of your mind.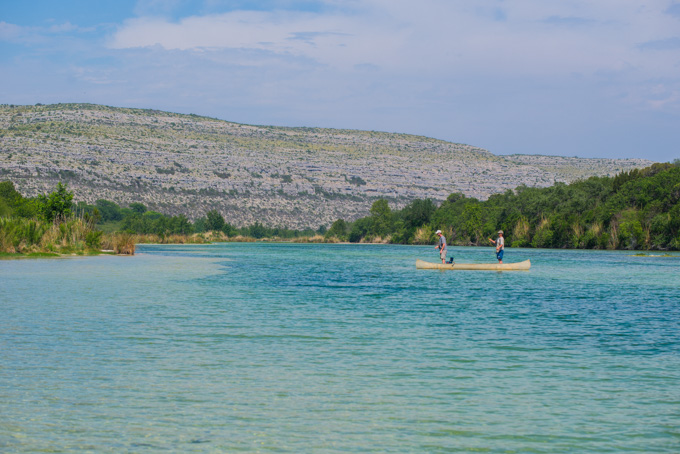 And yet, anyone who has paddled the 47-mile stretch of the Devils River from Baker's Crossing to Lake Amistad understands the saying, "No pain, no gain." To revel in the river's mystery, you have to fight headwinds and drag your boat through rough shallow areas along the way. For an intrepid few, this river trip provides a once-in-a-lifetime experience, but you have to earn it.
Until recently, the only legal campsites between Baker's Crossing and Lake Amistad were at the north and south units of Devils River State Natural Area (DRSNA), which meant that paddlers had to make the trip in three long, strenuous days. Those unprepared for the undertaking (and the prolonged sun exposure) would put themselves and the river at risk, especially by losing unsecured gear.
To address these issues, in March 2017 the Texas Parks and Wildlife Department (TPWD) signed lease agreements that allow paddle-up-only access to two new campsites, located at Mile 12 and Mile 20. The new campsites are part of the Texas Parks and Wildlife Department's River Access and Conservation Areas program, which offers improved angler and paddler access to more than 100 miles of Texas rivers. The program is funded by the U.S. Department of Agriculture and Texas Parks and Wildlife Foundation, the nonprofit funding partner of TPWD.
Providing these additional stopovers will minimize trespassing issues by providing safe and legal stopping points for permitted paddlers. In addition, this precious water is considered by many to be the best in Texas, so careful use is critical to maintaining its pristine condition. To help foster river stewardship, TPWD and the Devils River Conservancy are developing resources to prepare paddlers for river trips and educate them about river etiquette.