Flickr/ Jim Nix
Places to Stay
Travel to Hye, Texas for Great Food, Spirits, and Hospitality
By
|
We hate spam too, we'll never share your email address
Summer, winter, spring, or fall… it's always the perfect time to take a drive through the Texas Hill Country. No matter where you venture, you're promised the best scenery around.  Now, don't be driving too fast, and don't blink, instead,  stop in and say "hi" in Hye, Texas. There's no detour needed, but if there was, you'd certainly want to take it.
To find this little town, take a drive down Highway 290 between Fredericksburg and Johnson City, around 4 miles from the LBJ Ranch. There is not even a traffic light in this tiny town, but who needs that kind of hassle, anyway. Hye is the most perfect place to stop and chill out for a day, or two, or even three. It may not look like much at first, but looks can be deceiving.
The History
Photo: Flickr/ Beth Wilson
The Hye Post Office and General Store earned itself an official Texas Landmark back in 1966. It is still in operation today. Locals and business owners alike rallied together and fought hard to keep it open when it was threatened to close in 2011.  Today, the store is busier than ever.
The post office has quite a bit of history behind it. Lyndon Baines Johnson stood on that front porch to announce his appointment as U.S. Postmaster General in 1965. Johnson also claimed to have mailed his very first letter at the age four years-old from this very location. His boyhood home is nearby.
Hye is home to the friendliest people, who are more than willing to swap even more stories with you if you have a mind to listen.  The city continues to keep up with the times and is gaining in popularity for places to live and to visit. This spot in The Texas Hill Country is true to the brands and traditions of the Lone Star state. You'll love the shopping here.
Great Food and Spirits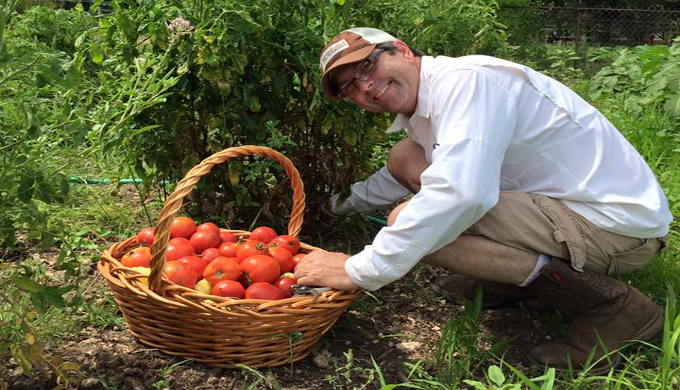 Photo: Facebook/ Hye Market
Hye Market and Tasting Room is located at 10261 US 290, and is located inside the historical post office. They carry a unique selection of hand craft beers and Texas wines.  The food is some of the best around. You'll find a resource of awesome reviews online. "Quality first and timeless traditions" is the motto at the Market".  "Slow down and enjoy what might have been in the past" is another one.  They are all about family, friends, and making your experience a wonderful one.
The deli itself is getting a great reputation. Chef Mark Church and his staff take orders and offer you some unique choices and some great food just the way you like it. Open 11 a.m. – 7 a.m., Tuesday- Saturday, and 12 p.m. -5 p.m. on Sundays. Chef Matt uses locally sourced ingredients whenever possible and he treats everyone like Texas royalty, so be prepared. The atmosphere is charming, eclectic, and they keep it very cool for you on these hot summer days.  Saturday afternoons are sometimes known to have live music. There are excellent selections and reasonable pricing on everything.
In addition to amazing food, the town is home to the very first legal distillery in the great state of Texas. Bourbon is made fresh every single day at the Garrison Brothers Ranch. Talk about being smooth! The distillery is open to the public. Tasting rooms and tours are available, and the staff there is extremely knowledgeable and very passionate about their bourbon.
The Vineyards
Photo: Pexels
There are several gorgeous vineyards and wineries in Hye. You'll find the best Texas wines in here. Most of the wineries have tasting rooms, free samples, and tours. The town is home to William Chris Vineyards, Hye Meadows, Lewis Wines, and Compass Rose Cellars. Each is a true Texas winery, which means its grapes are grown and processed on-site.
William Chris Vineyards Owners Bill Blackman and Chris Brundrett know their wine. Their winery farms 40 acres in a low-impact manner to bring wine lovers 100% Texas wine. Reservations are recommended on Monday – Thursday, and are required Friday – Sunday. 10352 U.S. 290, Hye, Texas. williamchriswines.com.
Calais Winery Boutique and winery. French winemaker Benjamin Calais crafts high quality wines from Texas grapes. Tastings and visits are by appointment. 830-213-2124; 8115 U.S. 290 W, Hye, TX 78635. calaiswinery.com.
Compass Rose Cellars Walk up for a delicious wine tasting or make a reservation for a premium food and wine pairing. 830-868-7799; 11997 Hye, Texas compassrosecellars.com.
Hye Meadow Winery A new winery on 62 acres with a mission to "offer a spot to relax with great wine and make you never want to leave. 512-961-5984; 10257 US 290 W, Hye, TX 78635. hyemeadow.com.
Places to Stay
Photo: Facebook/ Hye Noon Cabins
Hye Market is in the process of adding guest rooms. They should be ready very soon.  In the meantime, this growing little community has some wonderful bread and breakfast, charming motels and other wonderful lodging. Check them out.
Ketcher and Hye Noon Cabins offer a few options for weary travelers.
Alexander's Inn 830-584-5400; 8263 US 290 W, Hye, Texas. alexandersinn.co
Country Cabin's Bed and Breakfast Well-furnished separate guest houses and 460 acres of ranchland. 830-868-7447; 793 Lange Rd, Hye, Texas. countrycabinsbnb.com.
Hill Country Guest Houses 512-845-8137; Hye, Texas. hillcountryguesthouses.com
Hye Noon Cabins 830-225-0312; 239 Zoeller Ln, Hye, Texas. hyenooncabins.com
Hye-Way Haus Bed and Breakfast 830-265-0457; 10120 US 290 W, Hye, Texas. hyewayhaus.com
The Texas Hill Country is known for its many tiny towns, each one more unique than the last. Remember, the best things come in small packages.  They're are like diamonds in the rough:  the best times, the best food, and the most relaxing.