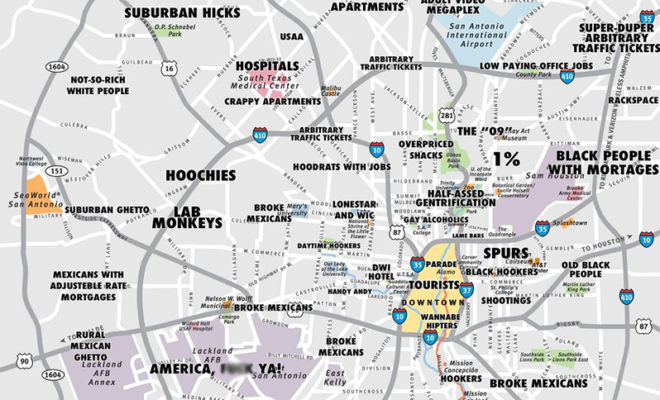 Twitter/@samallega
Lifestyle
'Judgmental' Map of San Antonio Goes Viral, Creator Speaks Out
By
|
Years ago, Joel Aldo made a judgmental map of San Antonio in Powerpoint and posted it to Facebook where it got approximately nine likes and four shares, he told MySA.com. WFAA adds that later, the map was uploaded to the websites JudgmentalMaps.com, which featured many maps poking fun at cities across the United States. But now that the San Antonio edit has picked up viral status via Reddit where some people found it humorous, but many people aren't laughing along. After making the rounds on the internet, the map has caused some folks to call it too offensive.
The sections titled "arbitrary traffic tickets" and "tourists" are more agreeable, but the edited map also features sweeping generalizations that can be offensive to many people with sections like "hoochies" and "broke Mexicans" and "gay alcoholics." Like Denise Hernandez posted to Facebook, "In addition to it being racist, classist, and gross, there really wasn't anything funny about it."
Aldo told MySA.com that he completely understands why some people would feel upset about his crass creation. "I didn't mean to hurt anyone. I never wanted to cause parochialism," he said. Aldo went on to say that he loves his city and lives in what he called the "crappy apartments" section of town.
Photo: Twitter/@samallega
San Antonio isn't the only Texas city to get the judgemental map treatment. Similar maps have been of other Texas towns like the South Plains city of Lubbock. Check out this link to read our story on the judgemental map of Lubbock, the hometown of classic rock n' roller Buddy Holly.
What do you think of judgmental maps? Are they all in good fun, or do they sometimes cross the line and go from funny to potentially hurtful? Let us know! Has your hometown received the judgmental map treatment? If so, be sure to send us a pic of the map.