www.kccleaaa.org
Local News
Kendall County to Host First Ever 'Back the Badge' 5K & Fun Walk
By 
 | 
The Kendall County Citizens Law Enforcement Academy Alumni Association (KCCLEAAA) is set to host its first ever 5K & Fun Walk on Saturday, September 10, 2016, in Boerne, Texas. The event supporting local law enforcement will take place at the Kendall County Fairgrounds and Cibolo Nature Center.

Image: www.kccleaaa.org
KCCLEAAA is comprised of Kendall County citizens who have successfully completed a series of classes and informative meetings designed to provide participants with a great understanding of the important role of law enforcement agencies in Kendall County Texas. The KCCLEAAA is a 501(c)3 chartered nonprofit organization located in Kendall County Texas, and its membership is comprised of private citizens committed to the support of the law enforcement agencies of Kendall County Texas. KCCLEAAA is not a reserve law enforcement agency, and members of the organization are private citizen volunteers with no law enforcement authority.
"Back the Badge" Benefit Trail 5K Run/ 1 Mile Fun Walk
Registration deadlines and prices are listed below:
5K Run or 1 Mile Walk Group Registration takes place at 8 a.m.
» $35.00 5K Early Registration (through 8/20)
» $40.00 5K Registration (through 8/31)
» $50.00 5K Late Registration (through 9/8)
» $20.00 1 Mile Fun Walk (through 9/8)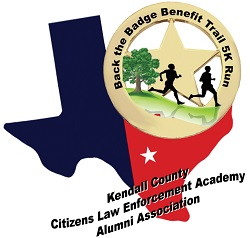 Image: secure.getmeregistered.com
Click here to register for this event! You can also help by supporting KCCLEAAA's various fundraising events or by making a direct contribution to the association; they are a 501(c)3 federally chartered nonprofit organization, so your contributions will be tax deductible.
For more information about the event or the organization, please contact KCCLEAAA directly by phone at 210-816-0279 or 210-628-9498, or by email at [email protected]. For a direct donation, please email [email protected].