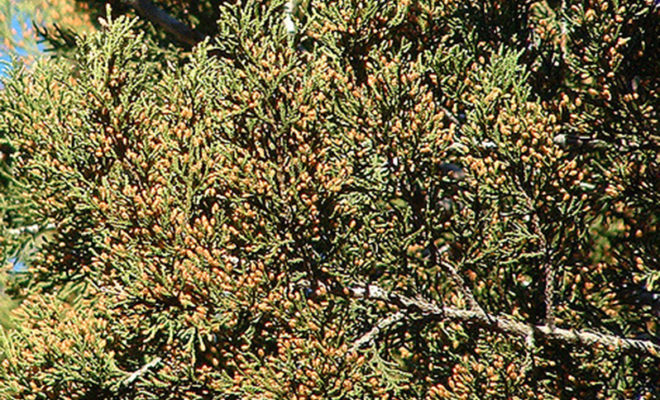 Flickr/micklpickl
Nature
Here's Why Mountain Cedar Is Causing Allergy Woes for Texans
By
|
We hate spam too, we'll never share your email address!
Texas Monthly declares cedar fever, or a mountain cedar allergy, as part of the Texas culture "that stretches from the Red River to the Rio Grande. The progenitor of all this misery is a medium-sized, frankly undistinguished tree with sinewy limbs covered in shaggy bark that vaguely resembles orangutan fur. Despite its common name, the mountain cedar is actually a juniper (Juniperus ashei)."
But many Hill Country and northern Texans wonder why does cedar fever hit at the beginning of the year and linger for so long? WFAA reports that Ashe juniper is prevalent near Austin, and its pollen can easily be picked up by the wind and taken north. This pollen causes runny noses, sneezing, itchy eyes, and a desire to stay in bed.
Photo: Flickr/Andy Heatwole
December to January is normally Ashe juniper's time to shine and release pollen, but a hard freeze can trigger even more of a release. Once it's out, it's going to fly around for a while. "The pollen count from mountain cedar on Tuesday was already in the 'high' range. Mild, dry weather should keep the pollen counts high, though there is rain in the forecast for North Texas this weekend," the news writes.
So what can Texans do? WFAA says to clean out your air filters and stay indoors.