Flickr/Nicolas Henderson
History
Dead Man's Hole: Do You Know the Dark Truth of Its Sinister Origin?
By
|

The Texas Hill Country is filled with countless beautiful landmarks and tales of rich cultural diversity. Just a few miles south of
Marble Falls
, in Burnet County, however, lies a much more sinister type of landmark. On what is now a several-acre park sits a well-like sinkhole eerily deemed Dead Man's Hole.
Photo: Wikimedia/Nicolas Henderson
Measuring about seven feet in diameter and approximately 155 feet deep, the cavernous Dead Man's Hole was formed by pressure from natural gas inside the earth. Initially discovered by entomologist Ferdinand Lueders in 1821, the hole gained its moniker decades later during the Civil War and the Reconstruction Era.
Burnet County voted in opposition of secession by a relatively one-sided count of 248 to 149, which became one factor that led many Union supporters to seek refuge in the Hill Country, a decision most would come to regret. Awaiting them in Burnet County was a radical group known as the "Fire Eaters," described as "worse than the Indians" when it came to violence. This group held on to Confederate beliefs, and secretly hunted and killed anyone whom they believed expressed opposing views. Described in many historical accounts as "fanatics", the Fire Eaters looked upon their violent actions as a heroic stand for the Confederate.
Photo: Pixabay
Although there is no report of exactly how the group came upon what is now Dead Man's Hole, the area became a dumping ground for bodies of Union supporters that were hunted down by the Fire Eaters. An oak tree once stood beside the site that is said to have scars from ropes used in hangings during hasty and biased "trials," after which the bodies were cut down and dropped directly into Dead Man's Hole. Reports vary as to the body count, ranging from 17 to more than 36 bodies. It is rumored that bags of bones were discovered in the hole, although their whereabouts are now topic of dispute.
Perhaps one of the most prominent names associated with Dead Man's Hole is John R. Scott, a judge born in New York that sought freedom in Burnet County. Scott had four sons serving in the Confederate Army but was nonetheless accused of expressing Union sympathies. Scott was chased down by the Fire Eaters as he attempted to flee to Mexico and is said to be one of the bodies that were found at the bottom of Dead Man's Hole.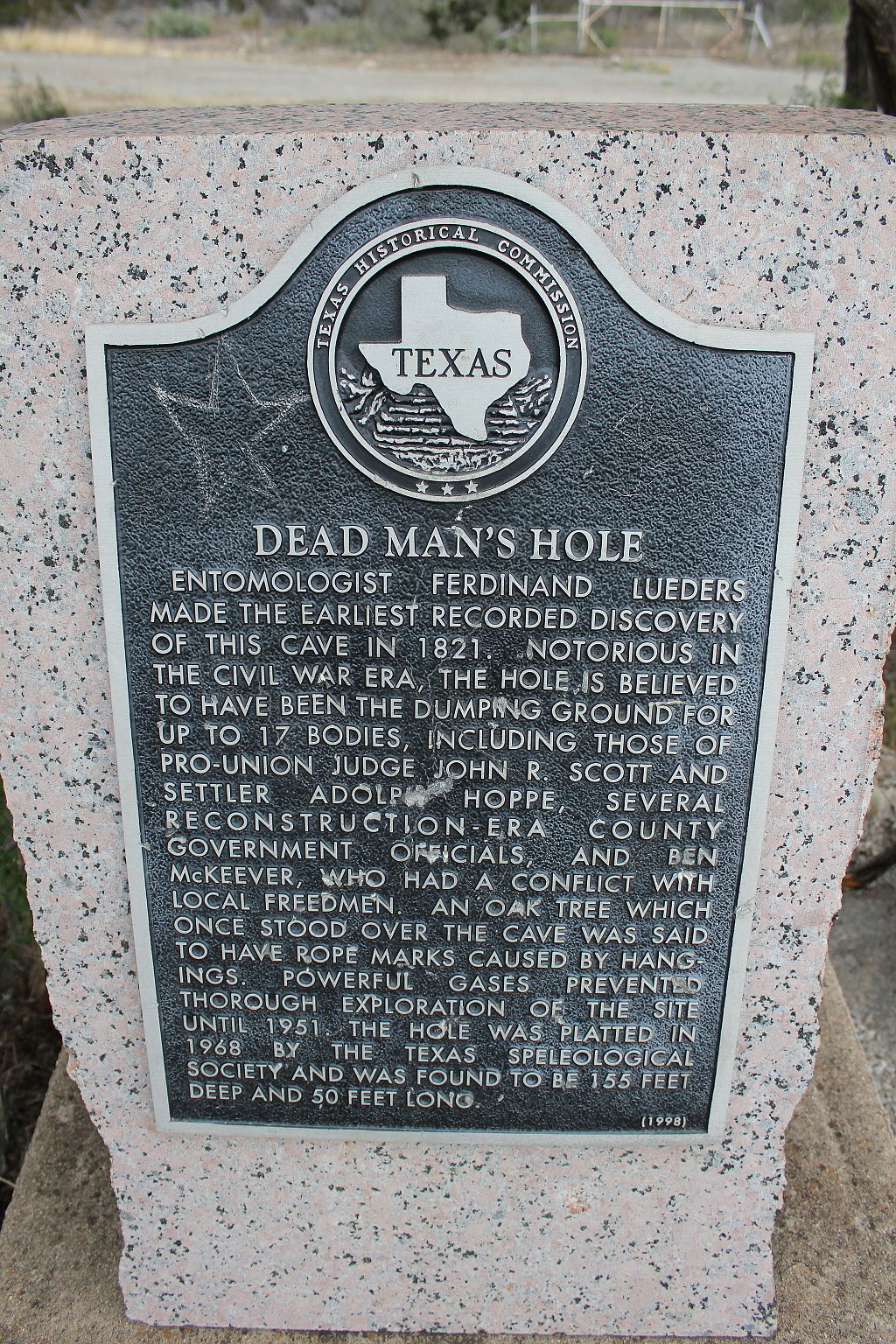 Photo: Wikimedia/Nicolas Henderson
The opening to Dead Man's Hole is now closed, and the area was named a historical marker in 1998. Surprisingly, there are no claims of the hole being haunted, although it remains the topic of many spooky tales for natives of the area. There is no mistaking the eerie and somber feeling that comes with visiting the hole.
The owner of the property deeded Dead Man's Hole and the acres surrounding it to Burnet County as a park in 1999, opening the landmark to visitors. While many that venture out to view it are most likely those seeking a late-night spook, Dead Man's Hole exists as a somber reminder of a very dark time in Burnet County history, as well as the history of our nation.