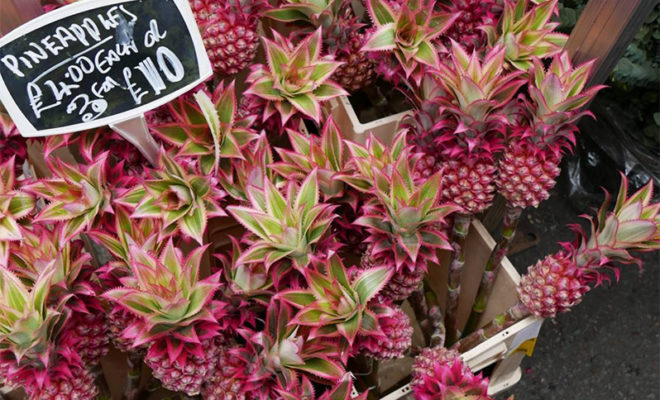 Instagram/@thetravelingthomsen
Lifestyle
Dig Into One of These Beautiful Pink Pineapples This Summer
By
|
We hate spam too, we'll never share your email address
Pink pineapples, or Rosé Pineapples as Del Monte Fresh Produce calls them, received clearance from the FDA in December. Now, the gorgeous fruits can now make their way into stores and social media feeds across the country!
ABC 13 says that the genetically modified fruit tastes a little sweeter than its naturally yellow counterpart. And while there's no real reason to have a pink pineapple, the warm coloration fits right in with the slew of unicorn-themed products that have brought joy to people who find happiness in small, simple moments of beauty in life.
But according to thekitchn.com, the pink pineapples seen plastered on Instagram, Pinterest, and Facebook are more than genetically modified – they're photographically modified, as well! They explain that the true pink pineapples are only rosy on the inside, not the full exterior.
The FDA says, "(Del Monte's) new pineapple has been genetically engineered to produce lower levels of the enzymes already in conventional pineapple that convert the pink pigment lycopene to the yellow pigment beta carotene. Lycopene is the pigment that makes tomatoes red and watermelons pink, so it is commonly and safely consumed."
In order to differentiate between yellow and pink pineapples in stores, look for the "extra sweet pink flesh pineapple" label!