Courtesy of GaintNoise
Things to Do
Austin's Historic Scoot Inn to Host Grand Re-Opening Tonight
By 
 | 
Since 1871, folks have been turning to the Historic Scoot Inn for an evening of the best in Texas-style entertainment. Tonight, the live music venue and dive bar opens its doors in celebration of its 145th year as an Austin downtown hotspot and to introduce its newly renovated interior space, Ivy's room.
Photo: Facebook/HistoricScootInn
Nearly 100 years before Austin's recognition as home to the progressive country music scene, Sam and Raiford Mason, two former slaves, arrived in the area eager to settle in Texas upon hearing about its status as a "free" state. They set up a community just east of Austin and fittingly named it Masonville.
In 1871, the railroad came to the community and Sam and Nancy Wilson set up a grocery and mercantile store near the tracks that became a social hub for the town. Not only did the store provide its customers a place to buy sugar and cloth, but the location became known as a place for gambling and bootlegging, too.
In 1955, Aubrey "Scoot" Ivy and his wife Hattie purchased the store and converted it into a saloon which they renamed the Scoot Inn. Throughout the rest of the inn's history, the Scoot Inn has transformed numerous times but has mainly served as a watering hole for the thirsty.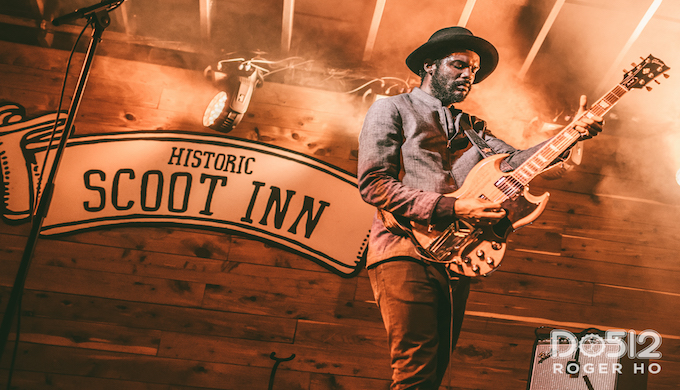 Gary Clark, Jr. Photo: Flickr/Do512/RogerHo
And true to its roots, the Scoot Inn is still the perfect place to down a cold one while shaking your shoulders to the latest musical jams from some of the choicest in Austin's bountiful live music acts. While the location itself will still act as a concert venue and bar partnering with rotating food trucks, the new Ivy Room will provide a lounge-like, neighborhood feel alternative offering piano music Wednesday through Sunday. When concerts aren't scheduled, expect a DJ spinning classic vinyl on Friday and Saturday nights.
Starting at 4 p.m. today, happy hour will continue all night with Lone Star drafts for just $1.45 and other drink specials. Food will be provided by the Mighty Cone food truck. So come on out to relax and celebrate and reintroduce yourself to the historic Scoot Inn.