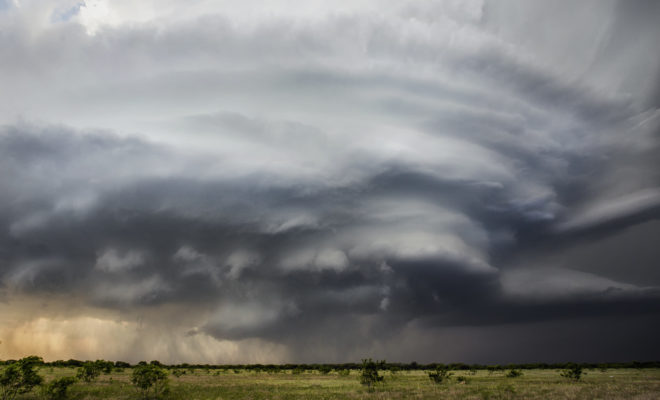 Jason Weingart
Nature
Severe Weather Safety Tips for Texans This Spring
By 
 | 
Spring can be a tumultuous time for folks living in the state of Texas. Due partially to its size, Texas sees more tornadoes than any other state in the U.S. While severe weather can and does impact the state any time of year, the months of March through May see the most frequent and often violent weather. The best way to stay safe is by being educated and prepared.
Reliable places to get forecasts from are your local National Weather Service Office, media outlets, and the Storm Prediction Center. The SPC releases forecasts with shaded risk areas seven days in advance. The risk areas are General Thunderstorm, Marginal, Slight, Enhanced, Moderate, and High. They ascend by severity. The Day 1 outlook is updated several times throughout the day.
SPC Day 1 Outlook for the April 27, 2011, Super Outbreak


Photo: Storm Prediction Center
A watch is issued when conditions are favorable for severe weather to occur. Those affected should be aware of potentially hazardous weather conditions. A warning is issued when severe weather is imminent or ongoing. Immediate action should be taken by those in the warning area.
Do not rely on sirens to alert you, as you may not be able to hear them or they could be damaged by the storm. Many cell phones will receive weather alerts, but communication towers can be damaged by storms. The most reliable way to receive warnings is a Midland NOAA Weather Radio. It will alert you whenever warnings are issued, which is useful when severe weather threatens in the middle of the night.
Tornado or Severe Wind Event


Photo: Jason Weingart

If you don't have a storm shelter or safe room, you need to know where the sturdiest part of your house is located, preferably an interior room on the lowest floor with no windows. It's a good idea to practice tornado drills periodically with your family.
Mobile homes are not safe during tornadoes or other severe winds. Do not seek shelter in a mobile home. Go to the nearest sturdy shelter.  Do not wait to take action until you see the tornado.
If you see the tornado while driving, and it is not noticeably moving to the left or right, it is likely moving towards you. If flying debris occurs while you are driving, pull over. Stay in the car with the seat belt on. Put your head down below the windows and cover your head with your arms. If you can safely get lower than the roadway, exit your car and lie in that area. DO NOT SEEK SHELTER UNDER HIGHWAY OVERPASSES. People have been killed attempting to shelter in this way.
Lightning


Photo: Savannah Weingart
Between 2005 and 2014, 20 people were killed in Texas by lightning, ranking it the second deadliest state for lightning fatalities.
When storms are forecast for your area, consider postponing outdoor activities. If it takes less than 30 seconds to hear thunder after seeing the flash, lightning is close enough to pose a threat. After the storm ends, wait 30 minutes before resuming outdoor activities.
Enclosed buildings with wiring and plumbing provide the best protection. Sheds, picnic shelters, tents or covered porches do NOT protect you. If a sturdy building is not nearby, get into a hard-topped metal vehicle and close all the windows.
If no shelter is available, avoid open areas. Stay away from isolated tall trees, towers, or utility poles. Avoid metal conductors such as wires, fences, or railroad tracks. Metal does not attract lightning, but lightning can travel long distances through it.
Cardiac arrest is the immediate cause of death for victims. Some deaths can be prevented if the victim receives the proper first aid. Call 9-1-1 and begin first aid. Do not delay CPR. Use an Automatic External Defibrillator if one is available.
Floods


Photo: Jason Weingart
The Texas Hill Country is located in the heart of Flood Alley. Flooding is the number one weather-related killer, causing more deaths annually than tornadoes, lightning, and hail combined. Information on Texas floods can be found here.
Stay away from floodwaters. Displaced wildlife and sewage can be present in floods. If you come upon a flooded road while driving, turn around and go a different way. If you are caught on a flooded road and waters are rising rapidly around you, get out of the car quickly and move to higher ground. Cars can be swept away by six inches or more of moving water. Be especially cautious at night when it is harder to recognize danger.
Walls of water as high as 15 feet can occur during flash floods. A map of closed low water crossings in Central Texas is available here.
Everything is bigger in Texas, including our storms, but with preparation, you can keep you and your family safe from these hazards.
Sources:
National Weather Service
Storm Prediction Center