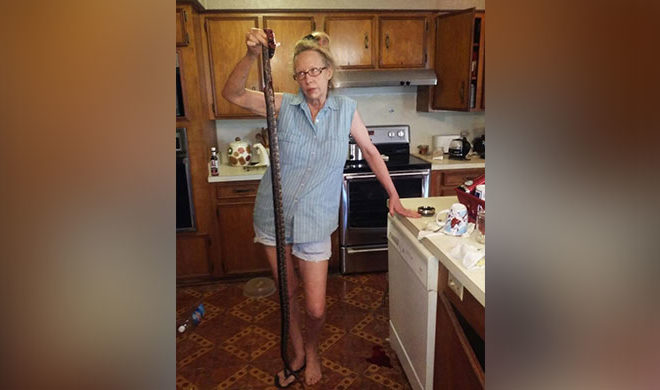 Courtesy of Deborah Burdette via Abilene News Reporter
Local News
Tough Texan Woman Battles Big Snakes in Her Kitchen
By
|
We hate spam too, we'll never share your email address
Deborah Burdette had a rather eventful day involving snakes in her kitchen last week. Around 8:00 a.m. she walked in to find a large snake sitting on her countertop. Then around 11:00 p.m., she returned to her kitchen and yet another big snake bit her.
The first snake wasn't shy. Burdette spied it right away and hurried to get her camera, but when she returned, the snake clearly didn't want to pose for any photos. After pretending that it might attack, it tried to escape. Burdette actually grabbed the snake to stop it.
She reached for a brand new meat cleaver to kill it. One detail that shouldn't be overlooked – she peeled the plastic off the new knife with her teeth while holding onto the snake.
The second snake occurrence took place in the dark of night so she wasn't able to see it until it struck her. Burdette told The Abilene Reporter-News that, "It bit my hand. I killed it and called 911 because, at the time, I didn't know what kind of snake it was. But after EMS arrived, we determined that it was a bull snake."
It sounds strange to say, but it's lucky that the second snake bit her instead of the first one. After sending photos to experts, she learned the first snake was a poisonous water moccasin.
Burdette hopes she has discovered and plugged the hole where the snakes were getting into her home.