Photo courtesy of Mo-Ranch, Hunt, TX
Places to Stay
Spend Spring Break at Mo-Ranch & Create Memories to Last a Lifetime
By
|
All photos courtesy of Mo-Ranch
Situated near the headwaters of western Kerr County sits 500 acres of Texas Hill Country heaven. Mo-Ranch provides oodles of opportunity for outdoor activity and plain old-fashioned fun. Let Mo-Ranch take care of your spring break plans for a family vacation you'll never forget.
What Is Mo-Ranch?
A ranch rich in history, Mo-Ranch originated as a vacation destination for wealthy Houston oil and gas man Odie R. Seagraves and his family. Sadly, Seagraves lost much of the 6,500-acre property in the stock market crash of 1929. He sold the remaining property to Dan Moran of Conoco who managed to add back nearly all the land originally lost as well as an additional 300 acres. Moran, an engineer by trade, turned the property into a mini village.
In addition to improving the existing manor house, Moran added guest quarters, an ice house, and a creamery. He even built a power station for the property. Ever the entertainer, he even constructed an auditorium with facilities for basketball, movie viewing, and roller skating and a river slide that guests still use today.
When Moran died in 1948, the Presbyterian Synod of Texas bought the ranch from Moran's widow. They sold much of the land off to the state of Texas which then created the Kerr Wildlife Management Area. Today, the ranch continues to provide entertainment and hospitality to its guests the like of which would make Moran proud.
Why Spend Spring Break at Mo-Ranch?
Even the most energetic family will be longing for bed at the end of each day weary with that special kind of tired you only get when you've spent the day outside. Recline on the banks of the Guadalupe River fishing or simply taking in its peaceful beauty. Swim, kayak, or canoe. Test your balance on a stand-up paddleboard. Take a wild ride down the 115-foot long river water slide or plunge into the refreshing waters from the rope swing.
Looking for adventure? Try rappelling, zip lining, or a ropes course. Bond with your family over the Great Escape challenge in which you have 60 minutes to put your heads together and find a way out of a locked room.
Participate in a living art project creating art with the help of Mother Nature (and the Mo-Ranch art staff), explore the ranch by mountain bike, shoot some hoops, or play a game of volleyball. Relax with an outdoor yoga class or long, meandering hike. Take a moment to worship God in the midst of some of His beautiful creation.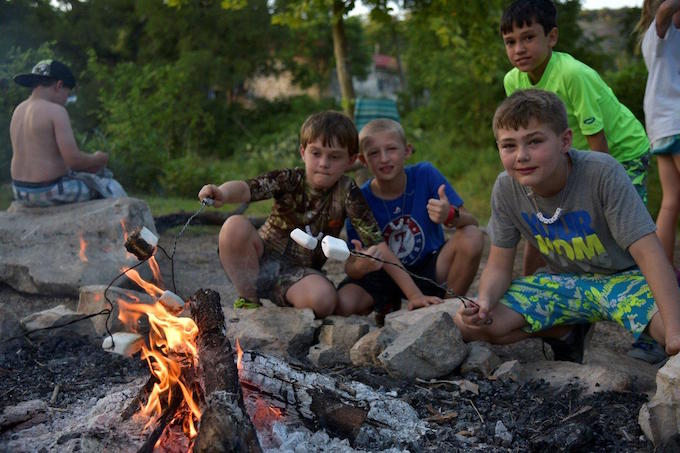 Still not tired? Grab your partner and do-si-do the night away at the square dance and hoedown. Sing your heart out at karaoke or gather 'round a campfire and toast marshmallows. And finally, when you are sufficiently tuckered out, your eyelids heavy with want for sleep, head back to your comfortable hotel for a night of rejuvenating rest. After all, more adventure awaits you in the morning.
Mo-Ranch has created the perfect spring break getaway package which runs from March 5 to March 19. Pricing is all inclusive ($119 per night for adults, $69 a night for kids 5-17 with children 4 and under free) — hotel (check out the awesome rooms at Pheasant Run and Wynne/Flato), food, and activities are all included. Don't want to stay overnight? No problem, the ranch provides commuter rates, too. Check out the schedule of events here or create a personal experience and explore the ranch on your own. Simply register here and put your mind at ease. Dream big, pack your gear, and get ready for an unforgettable Texas Hill Country spring break experience. Don't wait, sign up today.