Matt Dieterich's "Star Trails over Mt. Rainer." Photo courtesy of Texas Night Sky Festival®
Things to Do
Starry Night: Texas Night Sky Festival®
By
|
We hate spam too, we'll never share your email address
The Texas Night Sky Festival® is dedicated to transcending the heavens for one glorious, starlit celebration on March 18, 2017. This popular festival will be held at Dripping Springs Ranch Park from 2 p.m. – 10 p.m. where thousands will gather to honor the starry sky and participate in an assortment of activities. Plan for great food, fun, and exploration that the whole family will enjoy and most importantly, experience.
Discover how important natural light and dark skies have been to human civilization through the ages and how it remains significant and intricate to the environment around us, even today. The purpose of the Texas Night Sky Festival® is to promote awareness of how vital this connection is to the natural world around us, re-discover how it shaped ancient civilizations have before us, and how society should re-establish this integral, primordial connection even during in modern times.
Vendors and exhibitors will showcase examples of responsible lighting for homes and businesses view school projects and competition entries focused on protecting the night sky. To illustrate this message, there will be a myriad of enrichment activities for all ages to participate in.
Bob Mahoney, whom previously worked at NASA will be discussing Stars, Orbits, and Spaceships. Additionally, there will be other important speakers including Cindy Cassidy, the organizer of the festival, presenting "How Earth Depends on Natural Darkness."
There will be several educational booths, two mobile planetariums, a special solar telescope to safely view the sun. You can explore ancient civilizations at the Teepee by tales of the night sky from Native American and European traditions. You can even pick up a plant with the Hays County Master Gardeners. They will be holding their annual plant sale which will highlight the needs of plants and pollinators for natural darkness.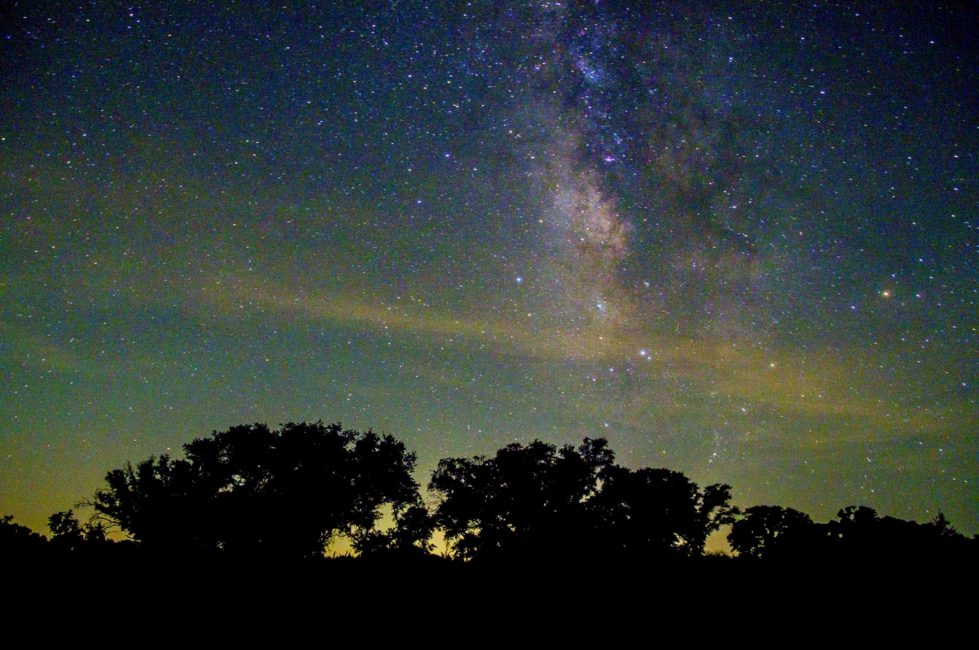 Mike Zarella's "Live Oaks Basking in the Milky Way." Photo courtesy of Texas Night Sky Festival®
After sunset, the enchantment rises. Enjoy looking through telescopes, stargazing at the star party, and even speak with astronomers themselves! You can earn an exclusive midnight defender and dark sky patch, regardless of scout status.
There is something for everyone. Bring your camera gear, as there will be an introduction to night sky photography lessons. There is even an opportunity to attend yoga under the stars, so be sure and pack your yoga mat if interested! Other welcomed items are camp chairs and blankets to unwind and celebrate the vast night sky.
Thanks to International Dark-Sky Association (IDA) Texas, the City of Dripping Springs, and the Hays County Chapter of Texas Master Naturalist, the entry into the night sky celebration event is FREE and open to the public. Parking is plentiful despite the 3,000 visitors that attended last year! Be sure and bring cash for various vendors for food and such, as credit cards will not be accepted.
A rare "Star Trails over Mt. Rainier" artist proof will be up for auction. There were only eight proof prints produced of the famed photo that was selected by the U.S. Postal Service as a Forever Stamp to the celebrate the National Park Service Centennial.
Please visit the link to learn more about the sponsors. Learn more about silent auction items here and to see a complete schedule of activities, please visit here.