alongthegeronimocreek.blogspot.com
Things to Do
Enjoy a Summer Full of Festivals in the Hill Country
By 
 | 
Looking for some exciting activities to do this summer? Grab the kiddos and the whole family, and get going to one of these summertime festivals in the Hill Country! Spanning the entire summer, here are a handful of festivals to please everyone in your crowd.
Peach JAMboree – Stonewall

Photo: Facebook/Peach JAMboree – Stonewall TX
First on the list, the city of Stonewall, just east from Fredericksburg, hosts their 56th Annual Peach JAMboree this summer. The JAMboree is a rodeo, honkytonk, and most of all, a festival that celebrates the harvest of delicious, Texas-sized peaches. The festival is two days long and takes place on the weekend of June 16–17. Some of the events are, mutton busting, a rodeo, live music, and dance on both nights. Fore more information, visit www.stonewalltexas.com.
Zilker Theater Productions – Austin

Photo: zilker.org
Another option, in Austin,  the Zilker Theater Productions company puts on outdoor theater performances. This classic summer time festival is a must see event that has been running for 59 seasons. The show is filled with talented performers and singers. This summer they will be performing the classic, Wizard of OZ. The event is free for admission so expect a crowd and arrive early. Shows run from July 7– August 12, Thursday- Sunday with a start time 8:15 p.m. Bring a blanket to keep out of the grass and a comfy pillow to sit on, because there are very few chairs at the amphitheater. Also consider bringing along a picnic for snacks and plenty of water. For more information, visit zilker.org.
Balcones Heights Jazz Festival – San Antonio

Photo: Facebook/Balcones Heights Jazz Festival
Not in the Austin area? For the folks who live in San Antonio, the Balcones Heights Jazz festival is a good choice. The festival runs from July 7-July 28. Admission is free. You will hear the sounds of good fun music and watch performers in a beautiful venue giving lively and upbeat shows. Seating is amphitheater style and the event fills up as it is first come first serve. Bring snacks, and something to sit on, whether it be a blanket or lawn chair. For more information, visit www.reachfortheheights.org.
Summer in the Park Concert Series – San Marcos

Photo: insiteaustin.blogspot.com
For those that live in the San Marcos area, the City of San Marcos hosts the Summer in the Park Concert Series festival. Starting June 1 – August 10, on Thursdays, the concert series features many different artists and styles of music. The music starts at 7:30 p.m. and goes 'til 9:30 p.m. Admission is free. There is space for the whole family and dancing is always encouraged. If you get warm, the refreshing water of the San Marcos River is close by and easily accessible.
Comal County Fair – New Braunfels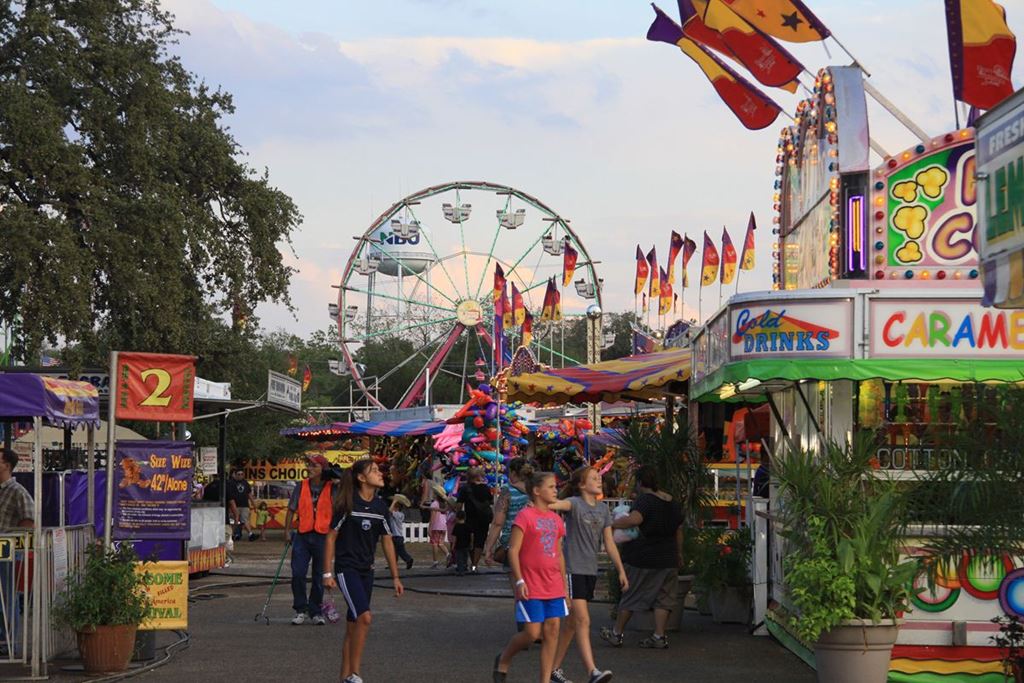 Photo: comalcountyfair.org
So you're tired from all the heat? And ready for summer to be over? Once you have had your fill of the heat and summer, there is one large festival that wraps up summer for many families in the Hill Country. After Labor Day, the Comal County Fair in New Braunfels kicks off in the middle of September. For your fill of tasty food, dancing, rides, music, and plain old fun, this event has it all, and it is a staple in the Texas Hill Country.