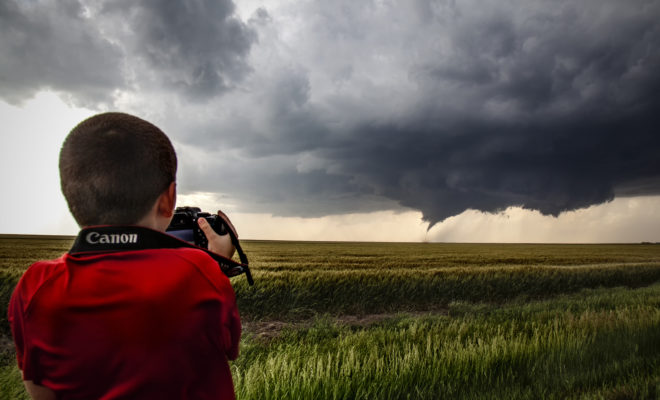 Savannah Weingart
Local News
This Texan May Just Be the World's Youngest Storm Chaser
By
|

While most folks run for cover at the first sign of impending severe weather, Florence Elementary third-grader Chase Miller runs for his camera. Chase is this writers' stepson, and is not your normal eight-year-old. He has already been chasing thunderstorms for four years, recently having participated in multi-state hunts for tornadoes.
Chase began showing an interest in photography at an early age. He started riding along on local storm chases in Central Texas and enjoyed shooting video of lightning. As he matured, it was decided in 2016 that he was ready to come out on the longer chases to the Texas Panhandle, Oklahoma, and Kansas. He witnessed a dozen tornadoes on a one-week trip that year. His work has been featured by the New York Post, the Chive, Getty Images, and many media outlets.
Capturing Incredible Images

Photo: Barcroft/Chase Miller
This year Chase chased as far away as Wyoming. The long rides aren't an issue for him as he loves to travel, already checking 30 states off his quest of visiting each state in the U.S. Chase says besides seeing storms, his favorite part about being a storm chaser is "getting to travel a lot and spend time with my family."
Chase sets up his own equipment and is responsible for image editing and file storage.

Photo: Jason Weingart
While chasing storms has some inherent risks, everyone's safety is always the top priority. Some days can be more dangerous than others, with fast moving storms in difficult terrain and low visibility. Chase stays home on those types of severe weather setups. His family also tends to hang back a bit and focus on the photography and meteorological aspects of the event when Chase or any other guest joins them.
Chase snapped this photo of a rope tornado and rainbow in the Texas Panhandle. 

Photo: Barcroft/Chase Miller
Besides photographing thunderstorms, Chase also enjoys fishing, learning about aquatic life and reptiles, geology, and astronomy. As for his future in the world of storm chasing, Chase said that when he's grown up he "wants to see more tornadoes than anyone ever has."
Reference:
Barcroft