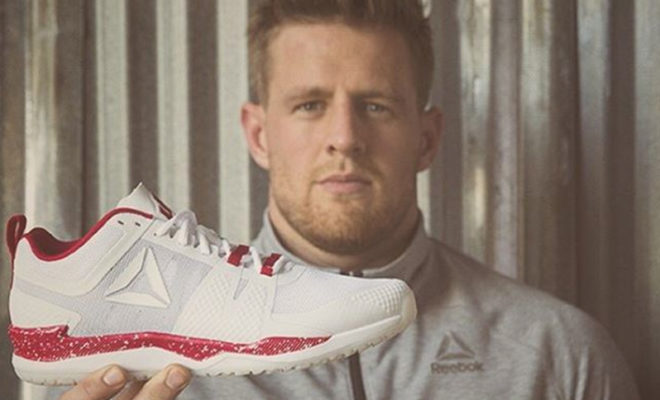 Instagram/@justinjames99
Lifestyle
J.J. Watt and Reebok Unveil New Signature Sneaker
By
|
We hate spam too, we'll never share your email address
J.J. Watt, Houston Texans football star, has released a signature sneaker with Reebok. The big unveiling of the defensive end's shoes included the Reebok Mobile Tour, which took place in Houston at multiple Academy locations throughout the city.
The sneakers were a major hit. The red, white, and gray sneaker already sold out on Reebok's website.
Reebok is no stranger to selling out shoes quickly. Their $175 Alien Stomper sneakers that were designed with the movie "Aliens" in mind sold out in 38 minutes. Later, the shoes popped up online selling for huge amounts on eBay.
Of course, J.J. Watt's shoes are showing up on eBay as well, but Reebok says will replenish the stock of the sold-out footwear. Their website states, "A new target emerges August 5th. Enter your email address below to get the latest Reebok JJ I updates."
The shoe's release generated quite a bit of hype. Footwear News reported, "Leading up to the drop, a life-size figure of Watt was outfitted in Reebok gear and positioned around Houston landmarks earlier in the week."
With fun marketing like that, it's hard to resist at least feeling a little curious about the new stylish sneakers. Be on the lookout for them on feet and in stores in Texas.