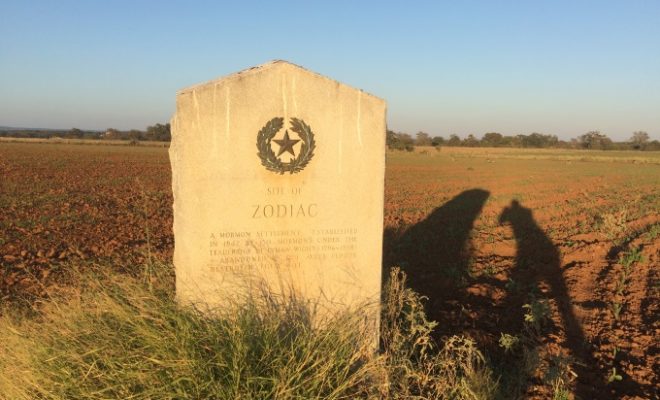 Robert C Deming
History
Divining the Zodiac Stone
By 
 | 
We hate spam too, we'll never share your email address
Josia Clifton, a Methodist minister in Austin described Lyman Wight this way:
Wight was a very handsome man, over six feet in height, weighing more than two hundred pounds, and having black hair and a dark beard . . . He rode in a fine French carriage drawn by two coal black mules with a coachman dressed in black. The harness on the mules were ornamented with black tassels and silver buckles and bells of Mexican silver.  Wight himself dressed in black broadcloth and highly polished boots and a black hat. In fact he was  by frontier standards of the time termed a 'dude'; not that anyone dared call him this to his face. He was a real spectacle of a man, heavily armed with two navy pistols in silver mounted holsters, one on each hip, and fine silver mounted rile in the boot in his surrey or carriage. He always had from two to six heavily armed and mounted riders or personal body guards on each side of his carriage, all on fine horses. (Smithwick as quoted by Philip C Wightman "The Life and Contributions of Lyman Wight"). 
Photo: Rebecca Norton/Bandera Frontier Museum
Although the Pedernales River is usually fairly small, two floods devastated the fledgling town, and in 1851 it was abandoned.  The millstones were lost. Substitutes were made of marble for their next mill, but they did not work well.  The originals were valuable as they had been brought from France.  The following was reported to have occurred:
Old Lyman Wight, the high priest, set about the task of recovering the lost stones.  After wrestling alone with the spirits for some little time he arose one morning with joy in his heart and summoned his people, announced to them that he had had a revelation, and bidding them take spades and crowbars and follow him set out to locate the millstones. Straight ahead he bore as one in a dream, his divining rod in his hand; his awestruck disciples following in silence.  Pausing at last in the middle of the sand bar deposited by the flood he struck his rod down.