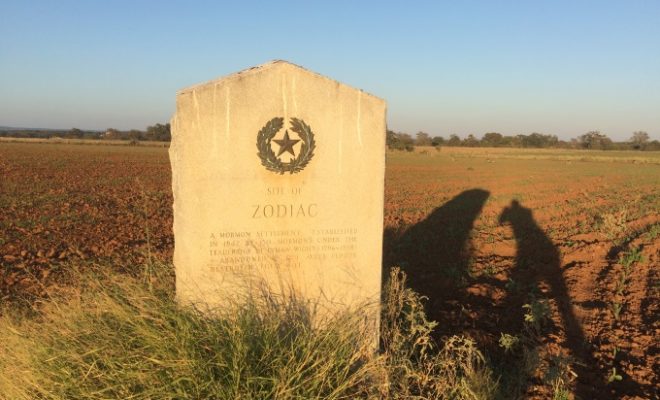 Robert C Deming
History
Divining the Zodiac Stone
By
|

"Dig right here" he commanded. His followers, never doubting, set to work, and upon removing a few feet of sand, low and behold, there were revealed the buried millstones. Wight said he saw them in a vision and his followers believed it. (Smithwick pp 299-300 as quoted by Philip C Wightman "The Life and Contributions of Lyman Wight").
This millstone thus recovered is pictured above and is now built into a fireplace; it can be seen in the Bandera Frontier Times Museum.
Nothing Remains of Zodiac
Photo: Robert C Deming
The people of Zodiac moved near Bandera, but by 1858 they decided to go to Missouri to join another group of Mormons.  Lyman Wight died at a campsite seven miles from San Antonio, reportedly falling into a campfire.  He was buried in his robes in the cemetery at Zodiac, which was all that remained of the settlement, and that has since been destroyed as well.  This is a much bigger story than is told here; to find out more, visit the Pioneer Museum in Fredericksburg.  Another resource for Texas frontier history buffs is  Fort Martin Scott in Fredericksburg which holds their annual Frontier Days November 11-12, 2016, with re-enactors demonstrating what  life on the frontier was like for soldiers, civilians, rangers, and Native Americans.
Author's Note: Don't try to find this marker unless you have a lot of time and are willing to knock on doors.  It is down a couple of miles of private roads into a farm and on foot out into the middle of a field, and when you get there, this photo is all you are going to get.  However, I got to know the friendly and genuine rancher who owns it and learn about his life on the farm, which has been in his family since 1892.  In Texas Hill Country fashion, the subject turned quickly to the drought.  Maybe it helped that I knew his brother, who has the adjoining farm.  He kindly allowed me to walk out into the planted field to get this photo, which he says was the location of the cemetery, not the town (which was some distance west). I also picked up some interesting attitudes about the Mormon settlers passed down in the family but not related in the history I have read on this subject.