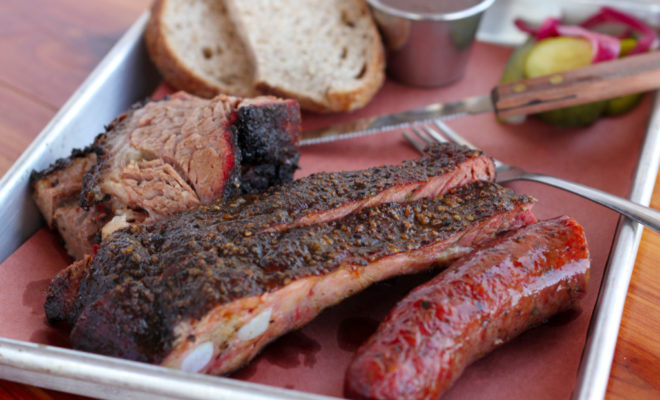 Freedmen's
Places to Eat
5 Texas Hill Country Eateries to Enjoy an Easter Brunch
By
|
We hate spam too, we'll never share your email address
Looking for an alternative option to cooking a traditional Easter meal? Each eatery offers up delicious menu options bigger than the Lone Star State! From BBQ, Beer, Wine, and upscale gourmet fare, here are five well-known and not so well-known Easter Brunch Texas Hill Country options complete with location, hours, and specials to satisfy any Texas-sized appetite!
1. Hays City Store
Photo: Hays City Store
Grab a picture with the Easter Bunny, play horseshoes, ring toss, and cornhole. With wide-open spaces and "backyard style" country store with good eats, this is a perfect family place to get your grub on. There will be specialty brunch items available. Easter Hours will be from 9 a.m. – 2 p.m., and dress is casual. Hays City Store, 8989 Ranch to Market Rd. 150, Driftwood, Texas 78619.
2. The Gruene Door
Photo: Facebook/The Gruene Door Restaurant
Wine and Dine in the Texas Hill Country at The Gruene Door. This upscale dining experience offers a variety of fine wines. The Southern Style Chicken and Waffles and Crab Benedict are local fare favorites. Easter Brunch is offered from 10 a.m. – 2 p.m. at 2360 Gruene Lake Dr., New Braunfels, Texas 78130.
3. The River House
Photo: The River House
Experience the great outdoors at The River House in New Braunfels, Texas. This restaurant is nestled in a wooded area that has an extended and outdoor patio where deer sightings are frequent. Brunch will be served from 11 a.m. – 4 p.m. with a specialty brunch menu. An Easter Egg Hunt will be held from 10:30 – 11 a.m. at 1617 New Braunfels St, New Braunfels, Texas 78130.
4. Freedmen's 
Photo: Facebook/Freedmen's
For the BBQ lovers you may want to stop in at Freedmen's for a delectable sweet and spicy treat, Sunday, April 16, 2017. Specialty menu items include Barbecue Benedict with a special Easter option with pulled lamb! There will be other specialty options on the Easter Brunch menu. Brunch is from 11 a.m. until it sells out so arrive early at 2402 San Gabriel St. Austin, Texas 78705.