Photo: courtesy of Boerne Convention and Visitors Bureau
Things to Do
3 Ways to Experience the Great Outdoors in Boerne
By
|

Few could disagree that the Texas Hill Country radiates beauty. Filled with a myriad of ways to spend time outside, the town of Boerne waits to entertain you. Grab your tennis shoes, sunscreen, and bathing suits. Pack up the family and get ready to plunge into the good life in the great outdoors.
1. Cibolo Nature Center
Photo: courtesy of Boerne Convention & Visitors Bureau
Lace up your hiking shoes and prepare to wander the trails at Cibolo Nature Center. The nature center features four different ecosystems in one compact outdoor space. Tall prairie grasslands which once covered vast amounts of the Texas Hill Country have almost disappeared, but thanks to the fresh waters that flow from Herff Springs and careful management, one of the Hill Country's most endangered ecosystems thrives at the nature center. Bluebirds make homes in nesting boxes in spring and hawks soar the blue skies overhead.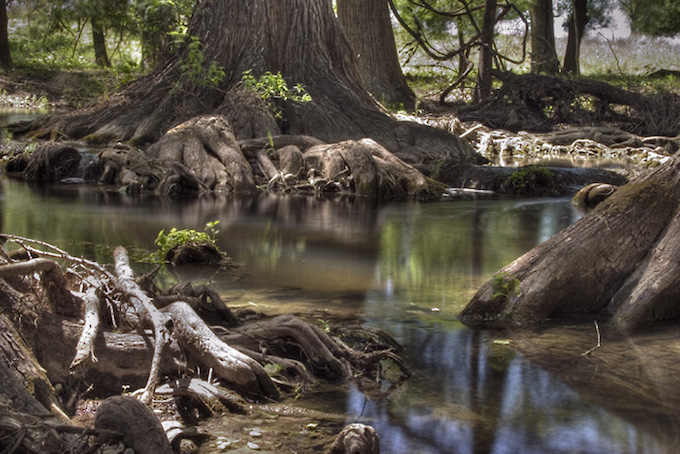 Photo: Flickr/Cherie Benoit
After exploring the grasslands, move on to the banks of Cibolo Creek into a swath of riparian forest where towering bald cypress and other large leafy trees create cover from the blazing sun. Squirrels leap like circus flyers from limb to limb. Turtle families line up on fallen logs in sunny spots, and birds fill the insulated quiet with song. Don't miss the interesting rocky limestone outcroppings along the way.
Photo: courtesy of Boerne Convention & Visitors Bureau
From the creek banks move into the live oak savannah. Oaks and junipers create the shade here with breaks where native grasses dance in the breezes of open meadowlands. An armadillo may scurry across the path and deer may lift their heads from grazing in the distance aware that folks are passing through.
Photo: courtesy of Boerne Convention & Visitors Bureau
Last, discover the marshlands. Once an area five times larger than now, the nature center works hard to preserve this shrinking habitat and is actively working to increase the wetland area by diverting water flow from the marsh over the prairie. Check out a variety of aquatic plants and watch insects skim across the water at the marshland's edge. Tadpoles undulate under the surface dreaming of the day they'll become frogs and dragonflies and damselflies flit about above ground.
Photo: courtesy of Boerne Convention & Visitors Bureau
The Cibolo Nature Center provides the perfect opportunity to immerse your family in an outdoor educational experience. Leashed dogs are welcome and admission is free. Cibolo Nature Center, 140 City Park Road, Boerne; phone: (830) 249-4616
2. Boerne City Lake Park
Little doubt exists that the best place to cool your heels when in the Texas summer sun is the water. And Boerne's got just the place to revive your energy and keep the family entertained all day.
Photo: courtesy of Amanda Spencer via Boerne CVB
Boerne City Lake Park offers 100 acres of shaded space and open areas all meant for relaxation and the utmost in summertime fun. Get there early, bust out the frisbee and engage in a game of frisbee golf. Or explore the park on foot ambulating along park trails. Afterward, take a quick dip to wash away the heat before rummaging around in the cooler for a cold beverage and lunch supplies. Relax and snack under the trees where several picnic sites beckon, some with charcoal grills, waiting for you to test your mad cooking skill.
Photo: courtesy of Boerne Convention and Visitors Bureau
After lunch (and perhaps a short snooze on a blanket), hit the water for an extended afternoon play session. Find out what'sup propelling yourself across the water on a stand up paddleboard, or take a leisurely cruise in a kayak. Rent both from Hill Country Paddle Sports conveniently located at the Boerne City Lake boat ramp. Take the kids over to BEE Inflatable Waterpark (open seasonally beginning May 27), a floating playground with air filled water slides, splash zones, trampolines, climbers, and everyone's favorite–the Blob.  Ample opportunity exists for more fun on the water with activities such as non-motorized boating, fishing, and swimming. Boerne City Lake, 1 City Lake Road, Boerne; gates open at 5 a.m. and close at 10 p.m.
3. Random Beer Garden
Photo: courtesy of Snap Chic Photography via Boerne CVB
Now as the sun sets, polish off a day spent outside right and mosey on over to Random Beer Garden. Just a hop, skip and a jump from Boerne City Lake, Random sets the stage for the ultimate ending spot after a perfect day spent outside. Just because it's a beer garden with over 80+ beers on tap, don't think you need to leave the littles at home. An in-ground monster bounce, live music, and food trucks will keep kids of all ages entertained well into the night. Random Beer Garden, 11 Upper Cibolo Creek Road, Boerne; phone: (210) 288-0467; open Thursday – Sunday. Keep up to date on the latest music and food truck schedule on Random's Facebook page.