Photo: courtesy of Boerne Convention and Visitors Bureau
Things to Do
3 Ways to Experience the Great Outdoors in Boerne
By
|
We hate spam too, we'll never share your email address
Few could disagree that the Texas Hill Country radiates beauty. Filled with a myriad of ways to spend time outside, the town of Boerne waits to entertain you. Grab your tennis shoes, sunscreen, and bathing suits. Pack up the family and get ready to plunge into the good life in the great outdoors.
1. Cibolo Nature Center
Photo: courtesy of Boerne Convention & Visitors Bureau
Lace up your hiking shoes and prepare to wander the trails at Cibolo Nature Center. The nature center features four different ecosystems in one compact outdoor space. Tall prairie grasslands which once covered vast amounts of the Texas Hill Country have almost disappeared, but thanks to the fresh waters that flow from Herff Springs and careful management, one of the Hill Country's most endangered ecosystems thrives at the nature center. Bluebirds make homes in nesting boxes in spring and hawks soar the blue skies overhead.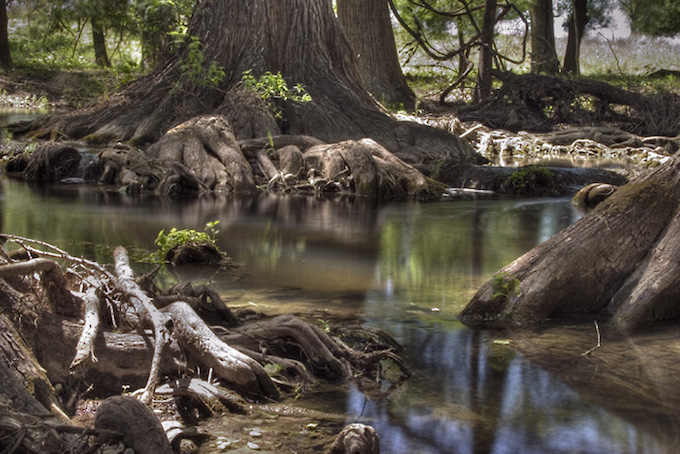 Photo: Flickr/Cherie Benoit
After exploring the grasslands, move on to the banks of Cibolo Creek into a swath of riparian forest where towering bald cypress and other large leafy trees create cover from the blazing sun. Squirrels leap like circus flyers from limb to limb. Turtle families line up on fallen logs in sunny spots, and birds fill the insulated quiet with song. Don't miss the interesting rocky limestone outcroppings along the way.
Photo: courtesy of Boerne Convention & Visitors Bureau
From the creek banks move into the live oak savannah. Oaks and junipers create the shade here with breaks where native grasses dance in the breezes of open meadowlands. An armadillo may scurry across the path and deer may lift their heads from grazing in the distance aware that folks are passing through.
Photo: courtesy of Boerne Convention & Visitors Bureau
Last, discover the marshlands. Once an area five times larger than now, the nature center works hard to preserve this shrinking habitat and is actively working to increase the wetland area by diverting water flow from the marsh over the prairie. Check out a variety of aquatic plants and watch insects skim across the water at the marshland's edge. Tadpoles undulate under the surface dreaming of the day they'll become frogs and dragonflies and damselflies flit about above ground.