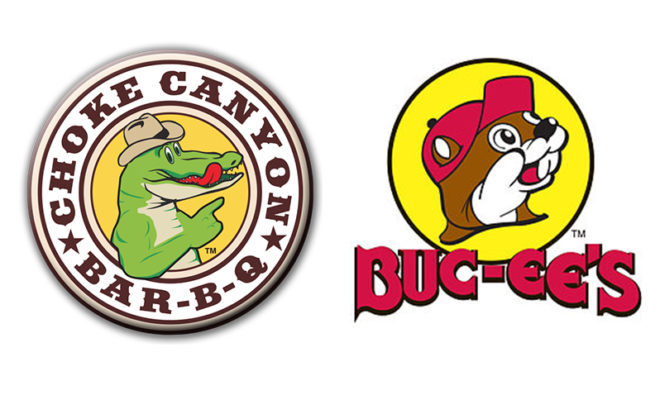 Logos Courtesy of Buc-ee's and Choke Canyon
Local News
Buc-ee's Sues Choke Canyon Over Logo Design and Store Likeness
By
|
If you ever drive on Texas highways you can instantly recognize a bold black, white, red, yellow and brown logo with a grinning beaver in a hat a mile away. It's Buc-ee the Beaver, of course! The famous mascot of Buc-ee's, a big roadside stop that features spacious and clean bathrooms, food galore, tourist goods and gasoline. Many signs along the road will let you know when you're getting even a little close to a location of the famous store.
But not all is calm and convenient in Buc-ee's world right now. The company has filed a federal lawsuit against Choke Canyon for allegedly copying their business concept and logo.
Choke Canyon Travel Center is located right outside of San Antonio, and their logo features an alligator graphic positioned the same direction as Buc-ee, with a hat on and tongue showing on a yellow background. In the lawsuit paperwork, Buc-ee's says that Choke Canyon's logo recalls all of the "important aspects" of their own logo.
They go on to say that Choke Canyon also uses similar architecture, layout, employee dress code, colors and even sells something similar to their snack called "Beaver Nuggets". They worry this will confuse customers seeking a Buc-ee's.
Keep an eye on the road for any news about the feud between the beaver and the alligator.