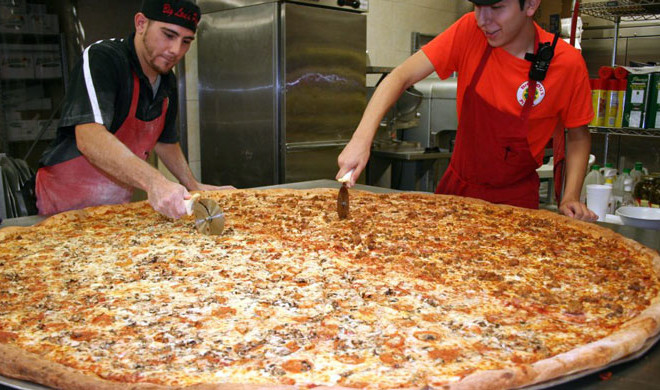 Facebook/Big Lou's Pizza
Things to Do
Hungry? Meet and Eat the Biggest Pizza in Texas at Big Lou's
By
|

Big Lou's Pizza, a San Antonio institution, makes a bigger pizza than you could ever possibly dream of: a 42-inch diameter pie. Just for reference, that rounds out to around 3.5 feet of delicious pizza goodness.
A Super topping 42-incher weighs about 27 pounds, and each slice is around 21 inches. The ingredients are fresh, too, as Big Lou's makes their doughs and sauces daily. The cheese is even freshly grated. Is your mouth watering yet?
Available for dine-in only, the 42-inch is actually Texas' second biggest pizza. The biggest? Big Lou's 62-inch pizza. However, the catch there is that you have to order the monster well in advance, whereas the 42-inch can be cranked out in-shop while you wait.
Looking for a carry out option? Well, if you can fit it in your vehicle, then you can take the 37-inch pie to go.
So how did this pizza become so popular? It's been featured on many Top 10 Biggest Pizzas in America lists, and the eating challenge show "Man v. Food" from the Travel Channel even covered it.
Big Lou said it best, "It was a marketing scheme that backfired in a good way." And we agree.
Reasonably, you just can't eat their 42-inch or 62-inch pizza alone, but next time you're in town, you should grab some very hungry friends and give it a try.