Facebook/Bedner's Farm Fresh Market
Recipes
Weekend Recipes: Sumptuous Strawberries
By
|

There is nothing like the taste of the succulent strawberries during the scorching summer months. Strawberries are refreshing, versitile, and can be added for a sweet addition to any drink or dish. Here are some sweet ideas that will make your summer sweeter with every bite!
Photo: Facebook/Cornell University
When friends and family gather, delicious food is definitely an integral part of the any celebration. What better way to welcome the upcoming summer months with a mixture of traditional and modernistic take on refreshing recipes that are sure to please any crowd.
1. Strawberry Jalapeno Salsa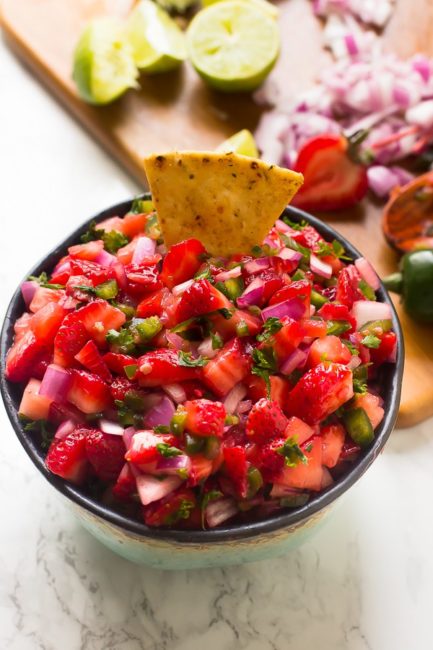 Photo: Pinterest/Jessica In The Kitchen
Jessica in the Kitchen, who created the Strawberry Jalapeno Salsa recipe, takes sweet, savory, and spicy to a new level. Jessica's modernized salsa is sure to please the crowds, as it is delectable and a refreshing pairing with chips, fish tacos, and just about anything else traditional salsa accompanies! The strawberry is typically in season from April through August, so now is the perfect time to enjoy this delicious explosion of flavors. To grab the full recipe visit www.jessicainthekitchen.com.
2. Balsamic Chicken & Strawberry Skewers
Photo: Pinterest/Hold The Grain
Hold The Grain really knocks this simple, yet delicious, recipe out of the park. Fire up the grill and cook up these delectable skewers in 15 minutes! The preparation requires a marinade so check out the full five ingredient process here at Hold The Grain.
3. Strawberry Tequila Sunrise 
Photo: Pinterest/The Little Epicurean
The Little Epicurean has a creative twist on a refreshing, classic mixed drink. A quick exchange from grenadine to strawberry puree transforms this drink into a distinctive, luscious spring oasis. For the full recipe, visit www.thelittleepicurean.com.
4. Strawberry Avocado Spinach Chicken Salad
Photo: Pinterest/Foodiecrush
Heidi at Foodie Crush knows how to mix fruits and veggies with the most succulent approach possible. This juicy chicken salad infusion will have people coming back for more. For the entire recipe, visit Heidi's website www.foodiecrush.com where she breaks down just how to make this divine dish.
5. Strawberry & Blueberry Cheesecake Icebox Cake
Photo: Pinterest/Live Love & Sugar
Live, Love, & Sugar sure knows how to whip up a ambrosial dessert that literally melts in your mouth. Visit Live, Love, and Sugar for a dessert that is so delicious the baking dish will surely be scraped clean. For the recipe and more, visit www.liveloveandsugar.com.
With the abundance of strawberries in season and upcoming Memorial Day Weekend, it is a perfect time to give one of these scrumptious treats the chance to tickle your taste buds! Enjoy!