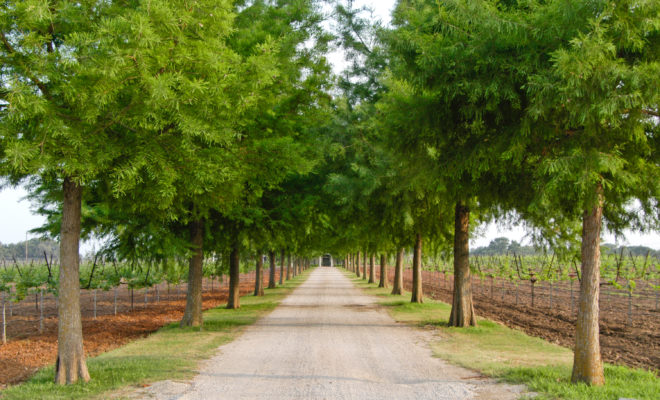 Photo Courtesy of Fall Creek Vineyards
History
Odd City Names in the Texas Hill Country
By
|

Parents carefully select a name when a child is born. Not so with Texas. Many towns evolved into identities that make a person downright laugh. Dime Box? Ding Dong? How about a creek named Woman Hollering? Such names pique the curiosity. Here are a few strange ones in the Texas Hill Country.
1. Tow Texas
Have you ever been there? This name looks as though it should be pronounced the same as tow truck, but the name actually rhymes with cow. You'll find it about sixty-one miles northwest of Austin in Llano county. Lake Buchanan is nearby, and if you're in the vicinity, stop in to enjoy a tour and taste of wine at the Fall Creek Vineyards. Llano country produces great wines.
Photo Courtesy of Fall Creek Vineyards
2. Welfare Texas
Photo: Pixabay
No, the US government had nothing to do with the name of this historic, landmark town in Kendall County. The original name was Bon Ton, that's French for "high-toned." The moniker morphed into Welfare when the post office came to Wolhfarht. A German word. Wolhfarht needed to adjust to English, so it became Welfare, which means pleasant journey. Like good food? The Welfare Cafe and Goat Barn can't be beat for fun and food.
3. Utopia Texas
Photo: Pixabay
Interesting, right? It seems the citizens wanted to label the settlement Montana, Texas, but that designation was taken. After much thought, the citizens decided their area was paradise, or utopia, in the Texas Hill Country. Utopia sponsors multiple festivals and jubilees and offers excellent fall foliage.
4. Sisterdale
Photo: Pixabay
This little sweet spot was named after someone's sister? Right? Wrong. Nicolaus Zink discovered this area while on horseback. He stopped to water his horse between two sister-like creeks and fell in love with the region. He brought others to the area and the settlement came to be known as Sisterdale. Like to dance? The Sisterdale Dancehall and Opera House is a prominent venue for weddings.
5. Comfort
Photo: Wikimedia/Larry D. Moore
A German immigrant set out for the Texas Hill Country. Upon arriving at the confluence of the Guadalupe River and the Cypress Creek, he decided he'd arrived at the perfect place. Settlers identified with Ernst Hermann Altgelt and began to call their new home "Gemultlichkeit." This word means belonging, cozy, and comfort. Well, that might not work well to English speakers, so they shortened it to Comfort. It's part of the San Antonio statistical area and has many comforting activities to enjoy.
6. Buda
Photo: Wikimedia/Travis K. Witt
Although pronounced the same, this Texas town is not to be confused with Buddha, the religion. Buda is a community close to Austin, TX. Opinions vary as to how this quaint place got its name. Buda may be a version of the Spanish word "viuda," which means widow. Early history says widows worked for a hotel in the area. Buda offers a charming business district and amenities such as parks, golf, and wineries.