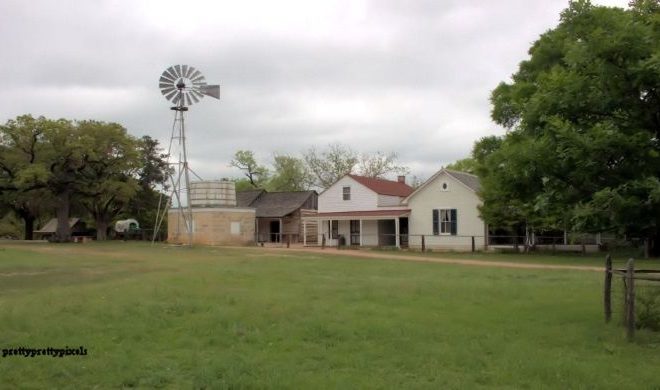 Emily Chavez
Things to Do
A Visit to the Sauer-Beckmann Living History Farm
By
|
We hate spam too, we'll never share your email address
Photos courtesy of Emily Chavez, Pretty Pretty Pixels Photography
Nestled on the grounds of Lyndon B. Johnson State Park in Stonewall, Texas, the Sauer-Beckmann Living History Farm provides an authentic "off the grid" experience of what pioneering life at the turn of the century was really like. Checking in at the Visitors Center near the entrance of LBJ State Park, visitors can either walk a short handicapped accessible walkway or drive down the park road to the farm. Upon arrival, life is played out as it was in the early 1900s.
The day I visited, I stopped at the Visitors Center and learned admission is always free. I was given a parking permit for my car and drove about a quarter mile to the small parking lot across from the farm. My mother, a descendent of the area, joined me that day. I watched her examine the entrance's plants and authentic stone work realizing today was a test. Would the Sauer-Beckmann Living History Farm live up to her expectations as an authentic pioneer farm life experience? I would soon be able to tell.
From 8 a.m. – 4:30 p.m., seven days a week, a period-costumed family (employees of the Texas Parks and Wildlife Department) runs the farm. Educating visitors, the "mother" and "father" answer questions and share information. Actual chores and live demonstrations of canning, cooking, planting, blacksmithing, quilting, soap making, and more are performed by the "family" just as they were carried out a century ago. Visitors are welcome to participate.
Along the wood-fenced pathway on the way to the barn, cows drank from their trough and pigs rooted in their mud hole. Inside, the natural light revealed a whetstone for sharpening knives, shears for shearing sheep, and a plow for planting, among other treasures.
"My grandfather used a plow like this one. It wouldn't work if the horses weren't taken care of, though," my mother commented. "He made sure all the animals were fed, even before breakfast. Then, before the sun came up, he checked to see that the horses' shoes were nailed in right and their bridles were even with one another so he could guide them to make straight rows when he planted. It was hard work," she continued.